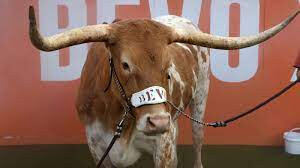 Today, I am announcing that I am entering the transfer portal. Good luck to all.
Last we heard, Bevo was somewhere south of Lubbock looking for open range. He thought he saw A.J. Green pass him twice.
I knew it.
Bevo, don't stop.
SEC is the other direction. You got the right idea.
I am guessing he wants to be mascot at Montana State.
Just a guess.
Pavlov:
This is a true classic. You need to send this to Aggie and Longhorn boards.
Think Bevo is headed to Colorado…
Is he going to stay with Colonel Angus? lol…
Bevo has that "I've just had my nuts cut off look"…

that sure is a great picture



Bevo now in South Dakota. He thinks he deserves to be in the "bad" lands.

might be the best thread I've ever seen. Can't wait to see where Bevo is spotted throughout the season.

I heard a rumor that Elon Musk was going to launch Bevo into orbit/exile from his Texas spaceport but that is as yet unconfirmed.

This topic was automatically closed after 30 days. New replies are no longer allowed.

/**/