We can't catch a break, Catalon, Brazille, NSJ……
Those I spoke with Monday downplayed the severity of the injury. I'm guessing they either did not know yet or were seeking another opinion.
Are we seeing a pattern emerge?
Do we have a higher incidence of this injury than other teams?
About half of the SEC's No. 1 starters tore their UCL last year. This is not a problem exclusive to Arkansas.
The ever increasing push to increase spin rate?
I guess this is the year of the injury for Arkansas. It hit us hard in football, basketball and now before we even get started, its showing its ugly head in baseball too. This has been a snake bit year for the hogs.
As far as injuries across the program, this yeas has been disastrous.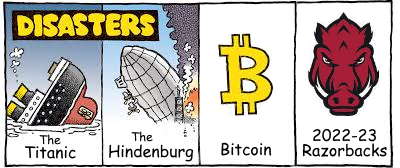 Not the worst news in the world. Hate it for JW however he has no business pitching against SEC hitters

Dang, that suxs! High hopes for him this season, wanted him to bust some heaters in on the vaunted LSU lineup!

Just about what I freaking figured!!! So tired of this crap happening to us and for him… We just cannot catch a stinking break!!!

Yeah they said the same thing about Kevin Kopps LOL some pitchers develop a whole lot slower than others. He by all accounts was doing much better I hate it for him. We probably won't ever see him again bc he'll do like Pallette and take the money.

Well how many years in a row have the hogs lost a pitcher that was being counted on! I hate it for Wiggins.

Yeah pretty much sucks and I just had a feeling this was going to happen by the way they were talking about him

His ERA last year was 6.7 v the SEC

We lost a midweek starter.

No we lost a weekend starter by the way he was pitching, in fact Dave said he was in line to lead the rotation, pretty much tells you all you need to know. He finally had command of all his stuff which was what kept him from being dominant consistently but even then he had stretches to where he was extremely good. Praying that he recovers well and gets to live up to his potential.

Hate that for the young man.

Hog fans get a new bike for Christmas and then stolen off the porch with the lock still on it…

Aloha Matt,
Anyone in business would tell the SEC coaching staffs they are doing something wrong to have so many injuries. They need to re-evaluate the process.
UA…Campus of Champions

A real bummer. Prayers for Wiggins. Depth taking a hit and we haven't taken field yet. Yes he struggled last year but was set to breakout this year per players and coaches. Big loss

/**/