Love Coach Muss but I'd pick Jay Wright as best colllege coach today.
He'd have to be up there.
To me the short list includes Wright, Muss, Izzo, Mark Few and, unfortunately, Show Cause Self. Nobody currently in the ACC. I might have considered Tony Bennett a couple of years ago, but if UVa doesn't have elite 3-point shooting they are very beatable. Chris Beard knocked himself down a couple of notches because Mark Adams took his leftovers and had a better season than Beard had with them.
Ironic this thread….had a TN friend start arguing with me this weekend after Duke game that Barnes & Cal we're better than Miss, to which I replied I would not trade Miss for any coach in the SEC or nation really. Muss has done more in 3 years than anyone could have imagined, which is opposite of what you can say for Cal or Barnes. Wright is awesome as are the others listed.
Will be interesting how well Muss sustains it over next 5 years…as Nolan said you gotta feed this monster!
Barnes' and Cal's records are both good, of course with advantages of Kentucky and shady recruiting tactics providing superior talent year in and year out, one might say that Cal has underachieved. Barnes is an excellent coach, but he has not really excelled in post season, even with talent, so underachieve might also be a moniker he lives with. As often said, "you are what your record says you are". Underachieve, so far, has not been anything Muss can be accused. His records at Arkansas and Nevada have both been good and his post season performances, not that shabby either.
I think Muss and Wright are in top three.
Aloha Doc,
Great point. Who would you trade for CEM?
Who has achieved more than CEM in three seasons relative to his starting point and success to date?
CEM has the distinction of being the FIRST coach to defeat a No 1 AP team in both the regular season and NCAA tournament.
CEM nabbed three Five Stars in one class. Better than any other football or basketball coach in UA history.
CEM has made UA basketball a national power once again. The Hogs are now relevant for the first time in 25 years.
A side note, I travelled to the Mainland for two weeks recently. As I always do, proudly wore my UA polo shirts. For the first time since 1995, I received countless comments about the Hogs from total strangers. My family was at an Orlando sports bar during the Gonzaga game. The place was packed and the vast majority were pulling for the Hogs. It was an awesome experience to see our Hogs back on the national stage.
I for one wouldn't trade CEM for anyone.
UA…Campus of Champions.
I live in TN. A lady stopped me in a grocery store parking lot a few minutes ago and went on and on thanking Arkansas for representing the SEC the last two years in the tournament.
Turns out she's a North Carolina fan.
I am Arkansas #0001 in TN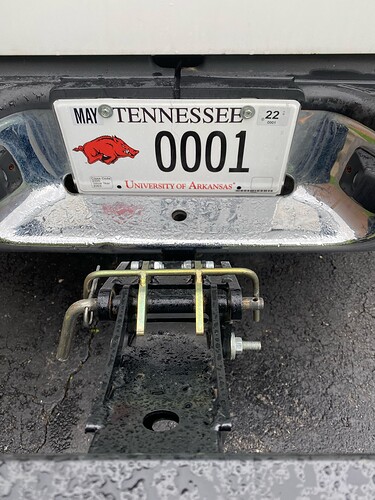 North Carolina has university plates too. Including Michigan. But none in the SEC west of Tuscaloosa. (Why Meeechigan is included I have no idea; are there that many transplanted Wolverines in NC?)
ESPN listed the best coaches left in the Sweet Sixteen. Jay Wright was #1. Muss was #3. Coach K was #7. They said great career, but all he has done the last 10 years is recruit #1 classes, roll the ball out, and only get to one Final Four. Harsh, but not THAT much off the mark. Now it's two.
I am Arkansas #0001 in TN

I suppose then I'll have to grudgingly succumb to 2nd Biggest Ark Fan in Tenn. (by license pl. standards)
anyway.

I wouldn't trade Muss for any other coach. Period.

In terms of doing the most with the talent on hand, hard to choose anyone other than Kelvin Sampson.

Overall Jay Wright.

Muss closing fast but will need some final four appearances to start getting mentioned in that company

Agree that Sampson gets the most out of his talent, but he's kind of a one-trick pony like Bennett. Doesn't seem to be able to adjust to his talent as well as Muss or Izzo or Few.

I just had this conversation with a friend. Our short list of "best college BB coach" was

Muss, Few, Wright, Beard. in no order

K has had about 1000 McD AA's, including paying for Zion, etc, and not done much until this year. at this point in time, I would not place him in my top 4.

Kelvin Sampson can coach, but I wouldn't trade him for Muss. I really don't know what Self would do with a normal roster, but I really do not think that he'd be remotely as successful with our last 2 teams, as Muss was.

I would have had Izzo in my top 2 until the past couple years.

GHG

Who would you trade Muss for? I know I would not for anybody. there are a few good coaches out there, but Muss is just above them. Just look at what he is putting together just these last two days.

To me Muss, Wright and Beard are probably the top three, they are certainly in the top five. I wouldn't trade Muss for any of them.

I live in TN too. My RV tag is UA3349 with the Hog…

On my second University of Arkansas Tennessee license plate, first one was old enough that it was fading.

Wright is the best dressed coach no doubt

/**/