An analysis of Keyon Menifield's game with insight from Percy Allen, who covers Washington basketball for The Seattle Times:
Muss will get him straightened out against the press and he will have ample opportunities to work on his game in our practice facility so hopefully his three-point shot will improve. He actually has very good mechanics so I can see him being a very good three-point shooter but he has a great floater game from the baseline I definitely agree with that
Watching the videos on him, he kinda reminded me of this guy, but looking at his stat comparison he is nice upgrade from him. . .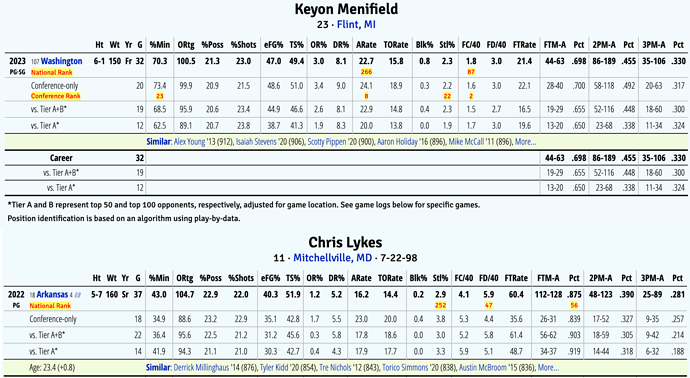 Keyon's shooting percentages are much higher, but Chris' free throw rate is much much better. They have a similar offensive rating. Chris' is actually a little higher.

As you said- Much Better shooting % (including higher volume 3 point shooter with higher pct), + better assist to turnover ratio (as a fresh vs as a senior) + more rebounding - Probably doesn't hurt to be 6'0" or 6'1" bs 5'7" ish. [Lykes was never able to create his own shot in the sec. Even with his quickness]. Hopefully if Menifield can keep growing (getting bigger/stronger ) and improving- gonna be a real good one!

Appears weight is a concern Youdaman! Hope he really gets in and works on it as this is a tough conference! He needs to start hitting the weight room with young Mr. Ford….he will set him straight on how to put on solid pounds!!!

Ford definitely is no stranger to the weight room for sure…
I see him putting on 5 or 10 pounds but I think he's going to be a player because that quickness he has will be effective in any conference. He will get better on defense too because Muss will demand it.

I think it would be a mistake to bulk him up too much. He is wiry, and his quick twitch muscles are elite.
Not saying Keyon is anywhere near the player, but his frame is very much like Iverson's.

He kind of reminds me of BJ Young. Very quick first step.

This topic was automatically closed after 30 days. New replies are no longer allowed.

/**/