I wonder how many of the seats?
Just that center section or more?
It says first section complete, so I would guess there will be more.
HY's tweet implies there will be more.
When in Chapel Hill, I walked by Dorrance Field, home of the UNC soccer dynasty. It's capacity 5,000, all baby blue armchair seats, built in 2017 (they tore down the old stadium and built Dorrance on the same site; UNC played home games in Cary for a year). We're recruiting against UNC and schools like it, frankly. Dunno if we're going to approach 5K capacity any time soon, but a few armchair seats will look better to the recruits.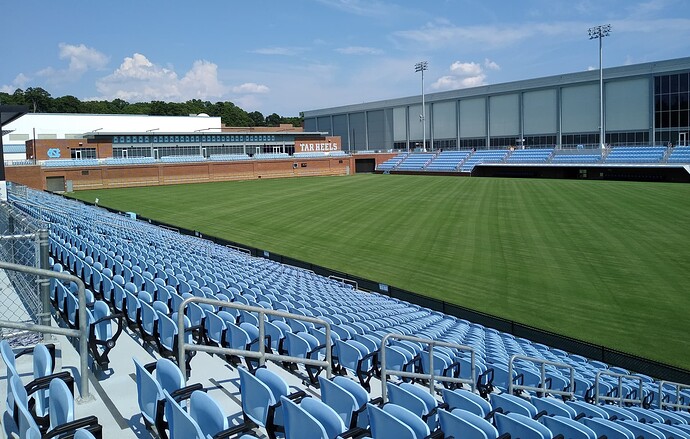 The soccer field is about to undergo a sizable renovation.
Glad to hear it! I'm thinking they might put some seats on the east side, similar to what you see above at Dorrance, and extend the stands on the west.
I still wish we had a men's team too but that ain't likely to happen.
All that needs to happen is that you win the lottery, Jeff. Then you can sponsor men's soccer. I'll sponsor equestrian if I win.
Of course, that means that I need to buy a lottery chance.
My plan all along if I win Powerball is to call Hunter, tell him I'll endow soccer and equestrian, and dare him to turn it down. Of course they'll need a men's locker room at Razorback Field, which can be incorporated into those east-side stands I mentioned above. And I won't even ask them to name it Necessary Stadium.
I did buy some tickets a few weeks ago when it got up to a billion-plus; last I heard the holder of the winning ticket (sold in suburban Chicago) had not claimed the prize. They have a year to claim the prize, but if they don't elect how to get the prize by Sept. 26, it's automatically the annual payments for 29 years (which is actually a lot more money, but you don't get it all at once). Those annual payments would work out to almost $50 million per year before taxes.
And having been prompted by this thread, I made a purchase of MegaMillions tickets for tonight's drawing (NC allows online purchase of lottery tickets with a debit card). So we'll see. Jackpot is $210 million, which should take care of two new sports and my immediate retirement
I do a career research assignment every year with my seniors and part of it is exploring whether your "dream job" is viable. They always ask me what my dream job is/was and I always tell them "lottery winner."


Matt, if possible could HogSports add a drop for Volleyball similar to Soccer?

Following Razorback Volleyball, I have visited teams in other conferences including the recent Razorback team trip to play in CSU's Invitational in Ft. Collins, CO where the Razorback women defeat three teams 3-0 each not losing a set. Due SECN now following our team I managed to view the CSU contest through the non ESPN Mountain West Network What I found surprised me by the large numbers of fans supporting not only the CSU volleyball but many of the programs west of NWA. CSU had 6,000 in attendance for their contest with UNC the previous weekend. Checking BYU after Duke's player's complaints, I found the same level of attendance and fan support. Packed houses. Earlier this week I watch #1 Texas play #12 Stanford before a similar crowd. I am also finding all the Volleyball games are televised both for home and away games. I am sharing this information with our AD hoping at minimum, television will be added for the contest now not scheduled for coverage,

I encourage anyone that has not viewed our volleyball team to take a look this evening when the Razorbacks play Florida International at 7 pm on SECN. We have a much team this year splitting with a top ten Washington team as some of our younger players have matured mixing with a couple of skilled transfers.

Speaking of the volleyball team, they swept UALR this morning as well in their Arkansas Invitational event to take their record to 6-1. Play FIU tonight and Colorado on Sunday in the same event. Next weekend they play two ACC teams (Georgia Tech and NC State) in Barnhill, then SEC play begins after that. They were 29th in last week's coaches' poll.

Well the Megamillions draw was last night, and I won!

How much? Four dollars. Which was deposited into my online account. I guess if I win the whole thing, it would also be deposited into my online account? Surely not. They like handing out the huge cardboard check.

One of my tickets got the Megaball right, but none of the other numbers. Thus the $4.

This topic was automatically closed after 30 days. New replies are no longer allowed.

/**/