I know everyone who has lost a dog can relate.
I probably shouldn't reply because I don't want to take away from his loss…but my first reaction when I looked at the picture (before I read the note) was that it was a photoshop of a black lab's head on the body of a yellow lab. Upon a deeper look I can see it is not - just the lighting, I guess.
Yep….lost Vern of 13 years in March last year and still call our new dog by his name!!! Tough losses for sure!
We have a 17 year old Dachshund who was my sole companion for several years before I remarried.
We have almost lost her twice and spent two fortunes in Doggy ICU. But she is worth every penny and still loves to travel and be on the go.
Can't imagine life without her, although I know I will face it.
I'm working with Sam and Reuben next to me. The loyalty and love you get from dogs is incredible. I hate being away from them.
I have a rescue mutt that was about 5 or 6 years old when I got her 9 years ago. She's very healthy, but I know the day is coming soon. I've gone through that before. I dread going through it again. It's awful.
This guy watches every Hog game just over my right shoulder. When he goes, might as well take me too.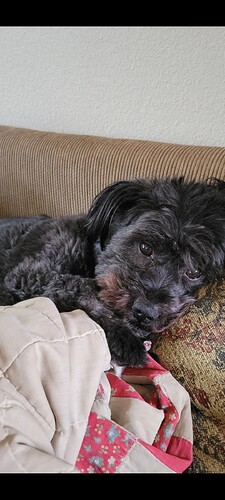 A special, sweet friend. Dogs become more than just pets.
My pets have made my life so much better. I cannot imagine my life without them. There is something magical about unconditional love.
Love hanging out on my back deck with our two guys. That's the plan for Friday night while listening to Phil call Ark-Ole Miss while sipping a few beverages.
Ice cold milk?

This is Rockey and Rosey about 3 years ago in the back of my truck. They were from the same litter. Same stock as Charley Brown. Rockey had to be put down two years ago. Rosie will be 13 in May.
They were best buddies. Rockey protected Rosie. Amazing to see him step in front of another dog or person to shield Rosie. Rosie has the camo collar and is milk brown in color. Rockey was dark brown.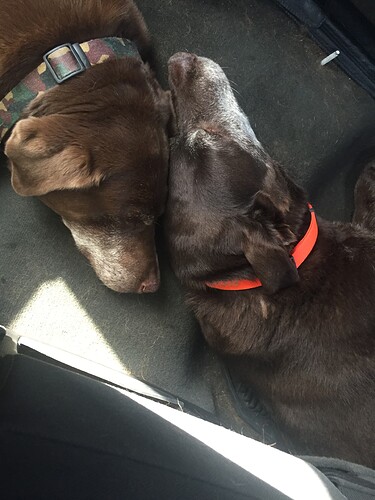 This is how they slept on trips. The vibration of the road put them to sleep instantly. Good travelers.
I'm known as a crazy cat guy (not without reason), but for a long time we had both dogs and cats; the interactions between the species were hilarious. My white boxer Sunny died of kidney failure. My terrier mix Spike kinda went crazy, got out of my back yard and bit a little girl on the leg. Had to put him in quarantine under Texas law because it was several days after the bite before the girl's family figured out who owned the dog and notified me, and by the time quarantine was over, I knew I had to put him down. Couldn't keep a biter and nobody else would take him. I went to the shelter, said goodbye, then cried for the 90 miles I had to drive to work that morning.
Hope your next job allows you enough time at home to get another dog, Jeff. There is a reason dog spelled backwards is God.
I'll have plenty of time at home. But I'll also have six cats when my GF moves in. Don't think the pup is gonna work with six cats who have no dog experience.
Looks like a Rhodesian Ridgeback to me. Good strong dogs. I know I posted about losing our 14 yo Bull Terrier, Bella over a year ago. Still miss her badly. We adopted two Scotties last May whose owner died from complications of surgery. A 9 yo male and a 5 yo female. They fit right in and filled a hole. Baxter was 31 lbs, way heavy for a Scottie when we got him, but is now under 25, a big strong boy, and much more active. Gracie goes out and runs laps around the yard and lives to get after her basketball.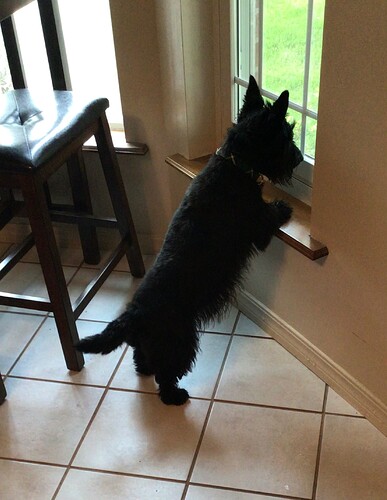 Love all the dog pictures and family stories. Thanks for sharing, the closeness and love are evident.

We have learned while WFH during the pandemic that our cats can be as loving and companionable as dogs. Of course, they can also be jerks who barf on the carpet. The "kitten" (who's 7) likes to hang out with me in the office and sometimes will climb into my arms while I'm at the computer.

/**/