Longhorns - "Tell Me about Arkansas"
https://www.surlyhorns.com/board/index.php?/topic/2672-tell-me-about-arkansas/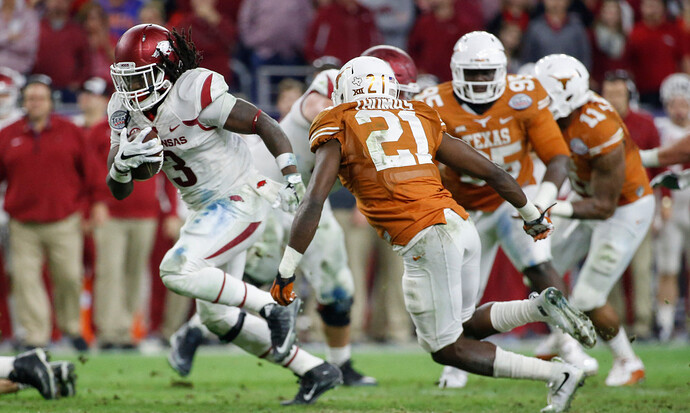 That's a great time because it will allow for more recruits - in all sports - to be on hand for both official and unofficial visits
Any discussion about re-installing the upper deck seating on both sides of the south end RRS scoreboard to expand capacity? Those seats were installed after the south end zone was added & assume they were removed after the stadium attendance was less than anticipated & well below capacity.
It's also a good idea to play a September game in the evening.
Why? We have a long way to go to get to needling them these days.
I may be wrong but expect that will change this Fall & including the ut game.
Well, there will certainly have to be a bigger push than is currently going on. We renewed 30k season tickets, we sold like 52k season tickets in 2012, before the motorcycle crash, we haven't been close since. I hope I'm wrong, but there will have to be a lot of pent up demand show up the next two months to even sellout. Also, they will want to sell their existing open seating before making something else available.
Homesickhorn
Homesickhorn 1,213
Posted June 7, 2018
*#21 *
When I decided take the scholarship that Ole Miss offered me, and not Texas (books) for baseball, my father was distraught. I informed him that with the percentage OM was offering me would cover out of state tuition, books, room and board, and probably save him a substantial amount of money annually. He still couldn't wrap his head around it. Finally, as a last ditch effort, I said, "Dad, we play the pigs every year, in conference".
He thought about that for a bit, and said, "Okay homesick. Just make sure you f*ing beat them when you play them."
And he still disappointed his dad.

Absolutely. Hot September afternoon games can be miserable. Even a 6:00 p.m. start likely means temps in the upper 80's or low 90's at kickoff.

Me and my buddies are planning on going to this game. When do tickets go on sale?

I would bet that Horns/Hogs sells put. On the University ticket page there is a FAQ line addressing Texas tickets. They wouldn't put that up there unless they were already tired of taking the calls with that very question.

Despite all, texass still has an appeal or perhaps dis appeal that no one has. It is in our DNA. Perhaps fans will get over it when ole farts like me die away - perhaps. I get a feeling just talking about them that I don't with any other.

Exactly colorado…you had to live through those SWC years to understand fully. Texass wins are special.

two of my old roommates from texas, both huge longhorn fans, are bringing their families up for the game. it'll be the first time I've seen those guys is years. I bet a LOT of that is going to happen.

Longhorn fans won't ever admit that we are a 'rival', but no doubt this game means something to both sides. Expect a huge crowd.

we already have our rooming booked, and are working on restaurants, you guys better do the same.

this is going to be FUN!!!

GHG

No doubt this game will sell out.
Old timer Hog fans from SWC days will be there.
Students & fans will be ready to attend a football game again after the pandemic & with high expectations of a CSP team.
ut fans will come to this game to see their new coach & a ut/AR game plus looking for revenge after we beat them soundly at the TX Bowl.

To you and me, Jim, that's a sure thing. I'm not as sure about the younger generation. They may have heard about the rivalry, but it isn't as ingrained as it is to us.

/**/