Big time player!! I am so glad to have him he is a game changer!!
Btw, he and Watkins aren't a package deal.
I'm not really surprised …there are new people coming in and out of that transfer portal everyday… I would be bald as a cue ball trying to figure it out LOL. I hope we can get even better than Watkins.
Well, Battle was waiting on Black declaring for NBA. Black on ESPN.
Looks that way… I'm glad for AB… hope he does exceptionally well! Will always be one of my favorite players
Great news!! Just saw this while scrolling on fb. Hit at least 4 3' s in 8 games. WPS!
We are now #1 on On3's team portal rankings.
He committed before Black officially declared.
Battle is an absolute nightmare for any defender… he will blow by you before you even know it and if you don't come out far enough he will drain the 3
The great thing about him is if you foul him on the drive…89% from the FT line
Here are his highlights hopefully we have him for two more years…enjoy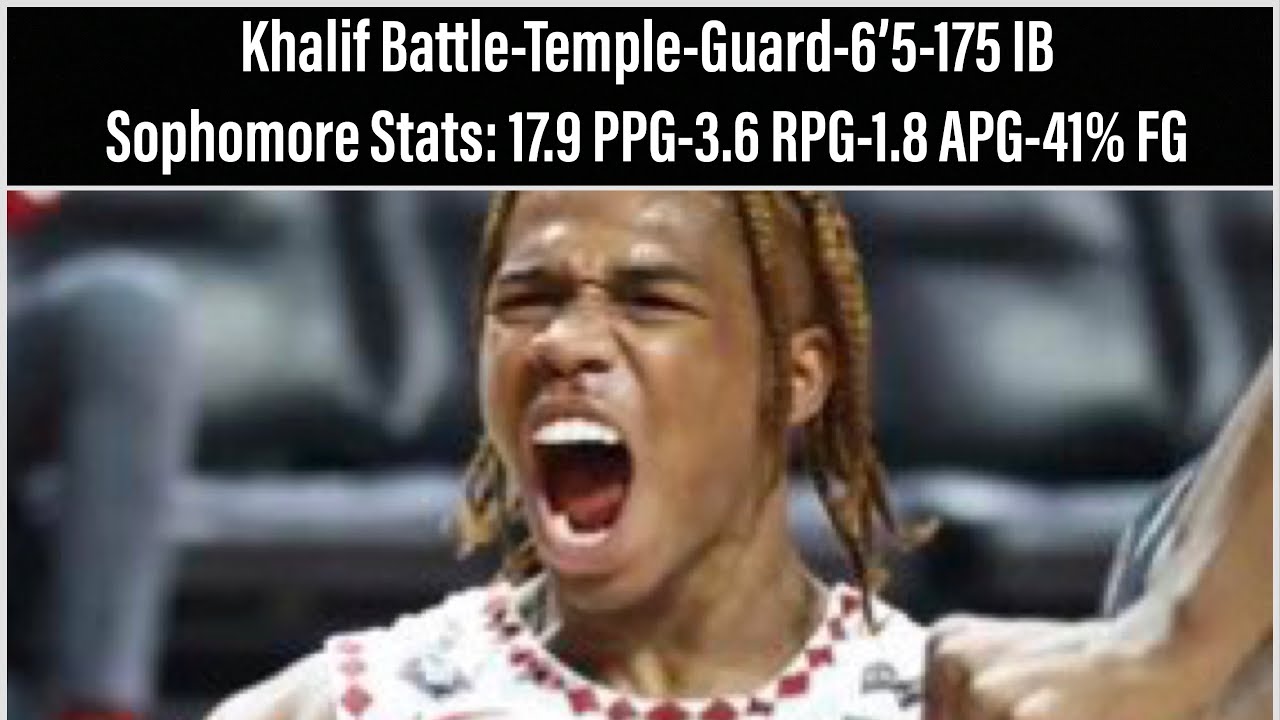 Man I like him even more after that clip!! Off the top of my head, reminds me of JD Notae, with more explosiveness.
Technically yes. But bet Battle knew and was told about it. Literally happened within 30 minutes of each other.
I posted this in the other thread but will put it here. Since he is replacing black, statistic wise. . . . Defensively not as good as black, offensively better. I really like how experienced he is. I think that in itself keeps him on the floor.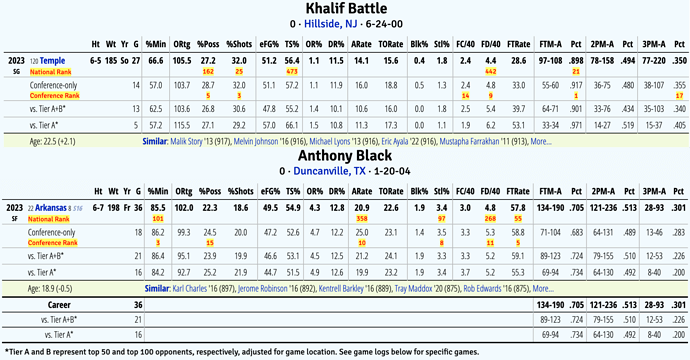 I put the wrong one in here. This one has both players in it.
AND much more shooting accuracy. Muss did a miraculous coaching job getting that 2021/22 team to the Elite Eight. JD took over 230 more shots than any other player on the team while shooting a bad .397 FG% and a not good .297 3 point percentage. He was an excellent defender and could get his shot off on anybody. But just not very accurately. That team proved you could win a lot of games on your defense.
Looks like he wanted to make sure that #0 jersey was available too.
My thoughts exactly Marcm! He isn't shy to shoot it…very much JD like!

The only comparison to JD that I see is that they both were volume 3 point shooters.

JD's last season - 74 of 249 on 3s. = .297 / 222 points
Battles' last season - 77 of 220 on 3s = .350 / 231 points

With Battle shooting those 249 threes he would have had 261 points. Those additional 39 points would have made a big difference in that 2021/22 season.

We lost 4 SEC games by 5 or fewer points. If we win just half of those, we go 27-6 instead 25-8 through the SEC tourney and are probably a 2 seed instead of a 4 seed. Especially if those 2 losses that turned into wins were at TN (4 points) and at Bama (1 point).

No, Battle doesn't remind me of JD. I believe he's considerably better than JD when it comes to making 3s.

One caveat though, is I'm pretty certain that JD was facing better 3 point defenders in the SEC. But I would still expect Battles to make 32-33%, which is still much better than JD.

EDIT: In re-reading this post, it sounds too much like I'm bashing JD. It's not intended that way. JD shot 3s well in the preceding year because we had Jalen Tate playing PG. JD was forced to play PG for the Hogs in 2021/22, which meant he had to create his own 3 point shots a lot of the time. Battle will have 2 good PGs, in Menifield and Blocker as well as a good passer in Mark to get him lots of his open 3s.

Everyone's eyes and things we remember of past player comparisons are going to vary and respect what you are saying and don't disagree Harley. Where I see the additional part of JD is the quick drive to the basket for layup's and getting fouled and going to FT line. If I recall, JD did that a lot, especially his last year. Battle may be a little better shooter and if so, we got a solid player! Glad we have him!

Yes, especially the last half of the season. Lots of great pick and rolls between JWill at the top of the key and JD. Worked very well. Later, as teams scouted it, and started doubling JD, he made a lot of good passes back to an open JWill for a 3 or an open 17 footer inside the key.

I seem to remember running that a lot in the NCAA tournament on our run to the EE.

One thing, I notice is that Black's free throw rate was much higher than Battle's I suspect that Battle wasn't the primary ball handler like Black was a lot of the time. I think watching battles numbers this year compared to last year will be very interesting.

kw

/**/