Yep I have good vibes on him and he would go real well with Blocker coming in,both can fly with the ball and hit the 3
Yes, please. Very impressive.
He would look great in a Hog uni!
But does he play defense? Pinion's a sniper and saw little playing time.
This guy is athletic. Pinion is not at this point in his career.
He's from Atlanta and had to go to Rice to play. I guarantee he's got a lot of dog in him.
Sign him up, Muss!
Career stats:
Decent rebounding numbers, will get the occasional steal, assist to turnover is less than 1.0 but he's not going to be asked to run the offense. Career 3p% is .378 and almost 6 attempts per game.
38% from long range and 78% shooting free throws. He would help, ability, experience and smart.
Interesting take. I don't see anything in the video that suggests he would be considered athletic for a P5 SG.
But, as 90% of the video is of him draining 3s, it looks like he can shoot it.
We definitely need more of that.
I think it's one of those type of situations he has the quickness to be a great defensive player and as we all know that is going to be an absolute essential part of his game if he's going to be in the lineup here.
I think he would be like JD notate who turned into a very good defensive player who had plenty of big game steals the last year he was here.
Well let's just hope we can get him because he and Blocker will give us two guys that can shoot the 3 that we need to get a couple more to join them.
Staff is working hard, have been in contact with 50 guys so far…A lot of these are very good players. We're going to bring in a better group this year than last year IMO
Would love to get this stud from Wichita State… get in his ear Ricky.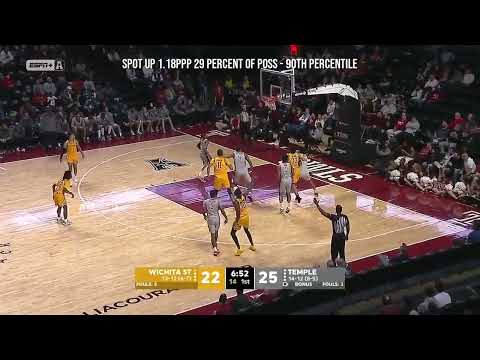 Damn! Never thought I would say this, but I'm not sure I would care if we didn't sign any more McDonald's AA's.
Go get em, Muss!

I'm impressed. Hopefully Muss can seal the deal before other schools get on him. Other big boys will come calling.

We are on some talented kids and our recent success cannot hurt!

Looked good until I saw his height and that made me pause…Not the typical length for a Muss guard.

Smaller guards can play tough defense. If Muss is considering him, that's good enough for me.

Good shooting technique. Love his aggressiveness.

/**/