Nice story Clay. I laughed when I read that bit about your brother. He's no dummy.
He should beat me now. But I won't roll over.
One of our golf group bought the Calloway Mavric driver, then a 2nd, now five of our group play with this club. It's the best thing going, and the 5 wood (it's called Heaven Wood), is awesome. In fact, all the fairway woods and rescue clubs are great.
Putters-check out the Scottie Cameron mallets.
Irons- everybody has something different here. None stand above all the others like the Calloway driver does.
I am not anything special at golf. I can get around the course okay. I hesitated on buying a driver for a long time. My next door neighbor handed me his driver (a 2-year-old Ping) a couple of weeks ago. I hit one shot and handed it back. It was 20 yards more or possibly 30. He convinced me at that point to try the newest generation. I'm sure the new Ping or TaylorMade would have been good, too. And change in set up helped. The Mavrik is a good driver, though.
I will say I liked the way it looked. There are some I just don't think look right. Todd Dunaway did show me a good looking Titleist driver but I didn't hit it.
I knew I needed to stop trying to hit the stiff shaft clubs.
I got away from stiff shafts a few years ago and got fitted. Best money I ever spent. Try the 4 wood and hybrid…I like the 4 wood bc it's carry is a bit longer than a 3w and I need carry where I play at Squire Creek in Ruston. Hybrid is so much easier to hit than fighting a long iron.
Good story. Makes me want to play and hit some balls, but I'm swamped with work.
I've tried taking golf seriously on a few different occasions, but i just cant seem to make it work. I am going to stick to buying fly rods for now. I usually leave the river in a much better mood than when i leave the golf course lol
Loved the golf story, Clay. Love the fishing stories, too. Keep up the good work.
I wish the PGA would have a tournament one week a year where the guys had to play blade irons and use wooden drivers…the older equipment.
The ball is the big difference in equipment. Today's ball won't curve much, so guys just hit it as hard as they can. The old balata Titleist could be curved 30-40 yards. If little Rory McIroy or Brooks Koepka hit those old balata balls they would curve into big trouble going over 330 yards.
The guys today are just better than we were in the 1970's. I have never seen anybody hit the ball as straight and as pure as Colin Morikawa. It is insane how well he strikes the ball. The only way the PGA can set up a course to keep these guys from regularly shooting in the high 50's and low 60's is to put the pens in impossible spots. These guys are ball striking savants.
Dang, I wish I was 25 again and could hit the new drivers and that ball that doesn't spin. It has made the game so much easier, but these guys today are just better.
On tour today, you won't see many odd swings, a couple of guys like Jim Furyk and the kid from Oklahoma State, but most have built their swings with computer-like precision. The ball striking is amazing for the length of courses they are playing.
My new driver has arrived. I look forward to hitting it with brand new golf balls. I have only hit it with range balls. I'm excited to have it.
Do you have a choice in new golf balls?
I have always been a Titleist guy. But I'm told I'll get a few more yards from the Bridgestone Tour BRX
Haven't found any of them in the lake I fish for golf balls in, yet. Maybe someday …(recently breached lake at our course)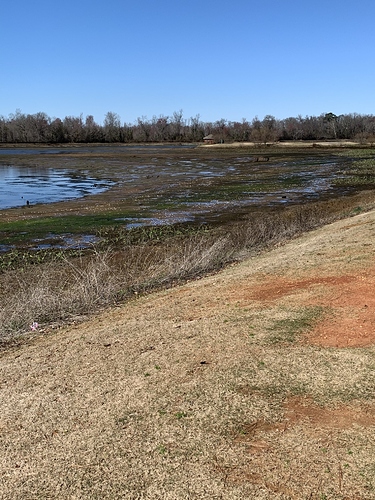 Buy new ones. If they were under water for any length of time, you should not play with them.
I do have stories about wading in the pond by No. 6 at old Riverdale and finding golf balls in the mud with my bare feet. And yes there were snakes in that pond. We mad enough noise and beat the water with sticks so as to scare away the snakes, or what we thought. And yes it was at night.
We used to do that at least once a summer when I was a teenager (in Georgia). The scariest night was when the greens keeper came riding by in his cart about midnight while we were chest deep in the pond of a par 5. He was out running the greens sprinklers by hand. If he had turned his headlights off, he surely would have been stunned to see hundreds of balls scattered in the fairway just short of the pond. I am still amazed that he drove right by without seeing the ripples in the water or our heads bobbing in the night sky reflections on the water. It was light enough that we did not even take flashlights with us. We were smart enough to take green towels and black garbage bags to put the balls in (no big white buckets)!

He might have seen you and not really cared.

I hit the Great Big Bertha in the early 90's as well as Ping Eye 2's (Blue Dot) In the 90's. Wow, they were damn good sticks. Looking back I don't know I hit the GBB, the head on that sucker was small but I had several +300 yd drives with it. Probably being under 50 yrs old had something to do with it. I still use my Ping Eye 2 Lob Wedge. I haven't found any wedge that I can hit better than this old thing. It's money in the bank from 60 yds out.

Still have not played a round with new driver. Only hit it on range. So far so good.

I don't know if you saw the story I related a couple of months ago about a friend who'd married into Byron Nelson's family. He asked Byron about all the new clubs on the market. Byron told him, "Son, if you've got the swing, you can get 'em at K-Mart."

I loved that story. Of course, that was someone with Byron Nelson's swing who said it & it was several years ago, but I still expect the observation is pretty good.

/**/