Not my preference. But–we will just have to make it a three-peat
Win or lose.
For whichever means final four.
Worst draw we could get… Alabama would have been better from an RPI and Net standard and on a neutral court I think we could revenge our earlier loss. LSU is just gonna be a slugfest that I really wanted no part of at all and won't help us in the ratings for the NCAA at all.
No doubt. I really wanted Bama. If I'm Muss, I empty the bench against LSU. Nothing to gain, and I don't want any of our guys hurt for the REAL tourney. If Toney is hurt, I wouldn't play him at all. We've already beaten them twice. So many potential National Champs have won conference tourneys (Hoover), but failed miserably when it really matters. Keep your eyes on the real prize.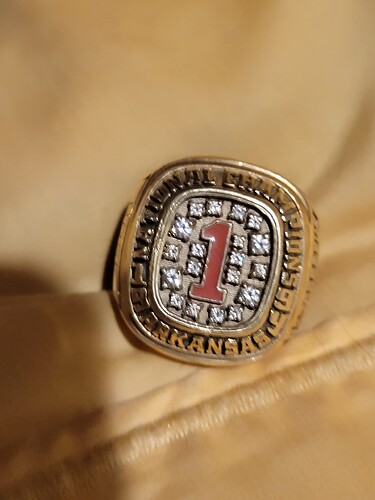 That's was a great team full of fight and spirit! What a year. I watched the 94 team on u tube a week or so ago form start to finish. It brought back a lot of memories.
Muss is just getting started, Army. Really good times are coming!
Yes sir I believe Muss can get it done on the recruiting trial and on the court. I'm proud to see Muss demands players to produce on defense to earn playing time.
After last season and making the elite 8 it made be realize just how great of a coach he is! He is right the opposite of Cal who gets less with the most talent.
Muss gets more with less! On paper there's no way our hogs should have beat the cats! Cal got out coached.
Have to disagree. Always something to gain by winning. Confidence. Momentum. NCAAT seeding. Experience. Winning is always better.
Can't play scared of getting injured. I agree, if someone isn't 100%, might be best served to rest them. But you can't go into the game worried about a healthy player getting injured. That approach isn't in Muss's DNA, nor is it in this team's.
As for your Hoover reference, you've already declared that no one will ever change your mind. So, even history won't matter to you. But……. Vanderbilt (2019), LSU (2009), LSU (2000), and LSU (1992) were all teams that won the SECT and also the CWS Championship. In 2017, Florida beat LSU in CWS Final after LSU won SECT…. so I also wouldn't call that "failing miserably" after winning the "meaningless" conference tournament.
Fair enough, but how has that worked in basketball?
I know Florida won the SECT titles and National titles both in 2006 and 2007.
With our short rotation I would like to see the hogs win 1 game and then use the bench more than usual to win after that. Don't worry about winning and wearing out the starters. Limit the minutes.
Good point, but I doubt it will ever happen again. That was 15 years ago. Different times now. Not trying to argue.
Teams that have won their conference championship and the National championship in basketball since 1994:
Nova - 2018
Louisville - 2013
UConn - 2011
Duke 2010
Kansas 2008
Florida 2007
Florida 2006
UConn 2004
Duke 2001
Mich. St 2000
UConn 1999
Kentucky 1998
Only eight of the 24 national champions since 1993 that participated in a conference tournament lost prior to the championship game. In other words, 2/3 of the national champs during that timespan at least made their conference final. So much for the theory its best to lose early and get rest. Teams that lose in the semi-finals or before in their conference tourney actually don't tend to win the natty.
Try to win every game. Some fans may discount the SEC Tourney…but I PROMISE Muss and his kids want to win it. They want the Natty more…but they will try to win every game. And they damn well should.
We can just agree to disagree. The SEC Tourney is meaningless. We just need to be healthy for the real tournament. We've got a nice team this year, but we are not deep.
Just the thought of not trying to win any/all games or the insinuation of such shouldn't sit well in the players minds.
Take this Tenn game for instance down 20 pts in 1st half (being blown out) by a very good team on the road and Muss playing reserves who hadnt been on the court playing meaningful minutes in a month(s). Only JWill sitting because of fouls. Premonition was Muss has thrown in the towel & resting players or not risking more injury, etc. Get ready for post season. Obviously he had other ideas / approach. Rest & regroup at halftime for the 2nd half onslaught & comeback.
Just not in this Coach's DNA or this teams DNA to slack off now for the future.
Well, as I pointed out, statistically speaking, if you are good enough to win the natty, you are good enough to make the conference tourney final 66.7% of the time since 1993. And the idea that any coach or set of players should just empty the bench and not really try to win EVER makes my stomach crawl. That's not the culture up there. Thankfully.
Muss having a full 5 days to prepare…I like our chances.
Of course no guarantee it's LSU.

I apologize, Robbie. I did not articulate my thoughts properly. I do not think we should tank in Tampa. I too want us to win every game we play, but I'm thinking more about the long game…the NCAAs.
There is nothing wrong with Muss getting some of our main guys some rest in Tampa, while still playing to win. It's well known we are not a deep team. Quite frankly, the coaching job Muss has done this year is astonishing.
Would I like to win the SEC Tourney, I guess, but I think we will better suited to do it next year. I think it will hurt us in the big tournament if Muss goes balls to the wall trying to win it this year. We are one or two injuries away from the danger zone. Just my opinion. Go Hogs!

Have we ever won the sec? I'm thinking no. I knw we've came close a few times.

Only once, and we had to to make the NCAAs.

/**/