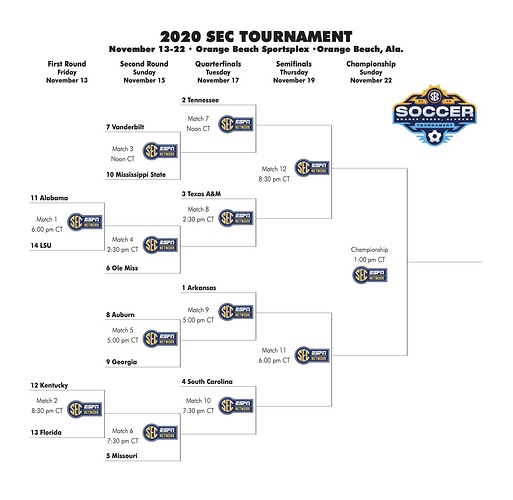 A few notes:
• Texas A&M tied Arkansas for the SEC championship, but is the No. 3 seed because of the odd way the SEC seeds for the soccer tournament. The division champions are guaranteed the top two spots, so Arkansas (by virtue of a head-to-head tiebreaker vs. Texas A&M) is the No. 1 seed and Tennessee is the No. 2 seed.
• South Carolina finished 6-2 and Tennessee was 4-3-1, but the Vols are the SEC East champion because of the way the SEC determines division champions, which is to only count their record vs. divisional teams. South Carolina's two losses were against teams from the East, while Tennessee went 4-1-1.
• Of the teams it might face in the quarterfinals, Arkansas defeated Kentucky 4-1 and Auburn 2-1 this season, and did not play Florida or Georgia.
• Arkansas has been in the championship game four consecutive seasons but has not won the tournament.