Not quite. By winning 7 games, Sam gets an automatic $250,000 raise for 2023.
The Drinwitz and Napier #'s astound me
6 coaches making $8.6 million plus. Where will it stop? How much is enough? How many are making $9 million plus across the country? Salaries have just exploded!!!
TV money has exploded. It has to be spent somewhere.
Pittman's base salary is $5.25 million after his raise, but he is also making $1.1 million per year that will be disbursed as a retention payment at the end of the 2024 season.
I haven't researched the NFL salaries but with large tv monies going to both college and pro games, I would guess the spread is not narrowing much. Also , there are many reports of major 5 conference athletes getting more more money than assistant coordinators at the same Major 5 schools (Arch Manning is one, Bryce Young was another) but true for alot of the smaller conference schools coaches for sure.
I can see coaches moving more as well as portal athletes.
How does this salary range compare to the B12 and Big Ten?
Yep, over $6M this year and $6.35 for 2023 when you did in the retention bonuses.
Ole Miss , MSU, and Ark hired coaches same year. Ole Miss 10 win season, Arkansas 9 win season and MSU had 8 wins this year (Death of Mike Leach distorts this salary comparison but he was same range as SP).
Stoops and Napier are hot seat coaches given division they coach in. B Kelly is under valued with year they had but his contract is guaranteed due to the rebuild he took on.
Win 9 games and you get a raise (except for Bama. Ga, or lSU). Win 10 games and you are Stoops. If you are TAM or Florida you are paying to be like Bama or Ga. Auburn wants to be Bama but HF has to show that he can do what he did at Ole Miss and then the $ will come to him.
Hot sears
I don't think Stoops is anywhere close to being on the hot seat. I think he might have the most job security in the conference outside of Saban and Smart. He is less than a year removed from receiving a 10-year contract. He is Kentucky's all-time wins leader, passing Bear Bryant. He has a lot of goodwill built up at a school where football is not king.
He took step back this year with best QB and receivers they have had. He gets Tn and Ga every year just like Ark gets LSU and Bama. That is big deal instead of just one. Napier will get Florida going with local talent and portal. Stoops fuss with basketball coach this year was telling. Sec coaches need win 10 games to earn $9 million contracts. Kiffin has better chances than Stoops. But I understand your comments and they are valid. I think he is a good coach but He is not Bob Stoops either. Jmho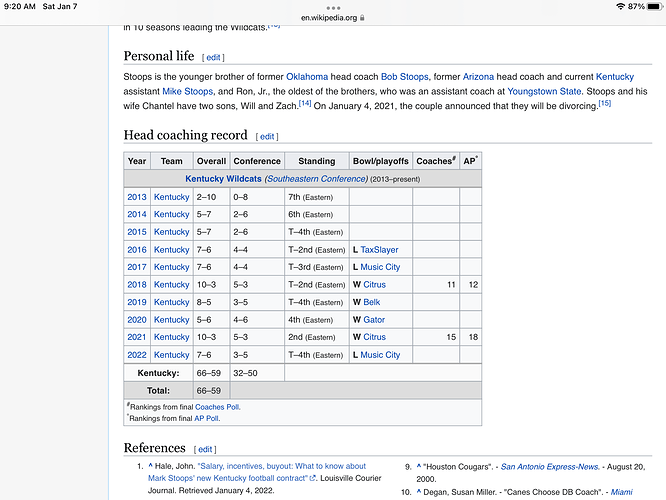 This topic was automatically closed after 30 days. New replies are no longer allowed.

/**/