For the fourth time this season.
Ya think she might have a shot at freshman of the year?
I bet Geno wishes he still had her. Too bad. She's gonna be a star as a Hog!
If Sasha comes back, look out!
Those girls are tough.
if she does win freshman of the year that will be 2 years in arow…Spencer won it last year…if she doesn't then either our record wasnt any good or she ends up getting injured
I was at the game at Mizzou and could not believe how she dominated on both ends of the court. Plays very well inside and outside and works hard to get open on every possession. WPS
She wins name of the year. Saylor Poffenbarger…that's a doozy.
She's a nice complinent to Jersey Wolfenbarger.
If she does win, we may go three in a row with an outstanding five star coming in as well for next year.
She very well might, lots of people will remember her name when they see her play, hope she continues to improve! WPS
It will likely come down to her and LSU's Flau'jae Johnson, who has won FOTW three times already.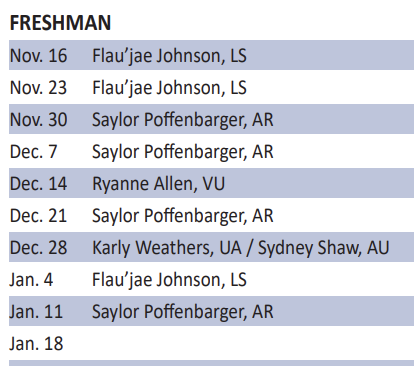 Saylor should have Johnson's NIL, or at least equal to it. She would be the perfect spokesperson.

/**/