No. But a whole lot of that was us making them not do well.
Their arrogance can't allow them to acknowledge that. The Hogs whipped the snot out of them and the score couda/shoda been 51-14.
Exactly. We not only won 40-21, but we took a knee e straight times inside the 10 yard line.
F --Texas
I've been waiting to post… Months and months ago.
I imagine it's been while since Sark has had a team of his get a true slobber-knocking A-- whipping.
Welcome to the SEC Sarky
Wouldn't read into it. He also said "they wore us out."
Maybe the reason why texASS played so poorly was because Arkansas handed their ass to them for 4 quarters.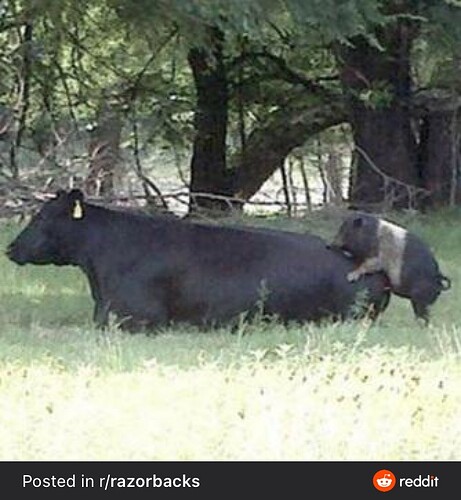 If your post using profanity, they must be approved.

Sark's comment ticked me off too. Typical response from a tea sipper. Sark has swallowed the arrogance of Texass hook line and sinker.

Sark's comments reflect the echo chamber that Longhorn nation is. Realty only appears to them in instances like last night. Must be very few mirrors in Austin. Playing seven Oklahoma's each year will temper that attitude but these are slow learners so it might take more time.

True, it will take time but the nearly weekly contest against bowl level teams takes a toll in a long season. They obviously have the resources but they will not dominate and dictate like they have been accustomed to.

Before the game, the Texass fans said time and again on their boards, we have to beat Arkansas because they are bottom feeders in the SEC. Horns now have an idea what it's like being a carp and looking up to a far away surface.

As I was sipping my coffee in the hotel lobby this morning, I heard a couple of their fans moaning about the game. "Their DBs couldn't cover our WRs. we missed a lot of wide open throws", and a lot more of the usual denial type of comments. One did manage to admit it was a hostile atmosphere.

Screw 'em. This wasn't a one score game that was decided in the last minute. We whipped their butts for 60 minutes. They're lucky the score wasn't 50-something to 14.

As Gene Chisik said on SEC Now, the game wasn't as close as the score indicated.

Well they did miss a lot of open throws. But their defense got pulverized.

333 rushing yards is a stomping.

This topic was automatically closed after 30 days. New replies are no longer allowed.

/**/