Bill Russell passed away today at 88
Also a very entertaining play-by-play analyst for quite a while after he retired.
Wow, I remember those days when Russell seemed to own Chamberlain.
I do think the NBA was more a team game than it is today and Russell was the master. RIP sir.
A true class act. RIP, Mr. Russell.
He was Awesome!! RIP Bill!
Watched the Celtics as a kid, were my favorite. I remember when he was in his later playing years, he became the player-HC and they won another NBA championship. No free agency in those days, you built your team and developed by playing together for a long time.
RIP Bill Russell
Bill Russell definitely never subscribed to "shut up and dribble." He was always very vocal about social issues, even 60 years ago.
Russell AVERAGED 22 rebounds per game. For his career.
When I was a freshman at Tulane, in 1968, Bill Russell came to speak. My hero. The guy who played basketball and life the way it should be played. Not for personal glory, prideful as he was, but to win as a group. Large auditorium, but only a few dozen students showed up, because basketball was not that big at Tulane or in New Orleans, and Russ wasn't playing anyway, just talking. As if he had nothing to say. I was stunned and dismayed at the size of the crowd. But Russell graciously invited us all to come up, sit around him, and ask any question we wanted. The first one was if he had to name a team of the best players he had played against, who would be on it. He said he'd answer the question, and he did, but only if that was the last basketball question he was asked, because he was a human being, not merely a basketball player, and it was an insult if we thought basketball was all he knew. And then he answered questions on all kinds of other subjects, kindly, thoughtfully, and often with his trademark cackling, infectious laugh.
I live in North Carolina now. Some people think basketball began and ended with Michael Jordan. I'll give him his due, but there was only one Bill Russell.
That is an unbelievable stat
He was a great player and a great man. Will always remember his wonderful smile and laugh.
Wilt Chamberlain and Bill Russell played 94 games against each other in their NBA careers Wilt averaged 29.9 points per game to Russell's 14.2. Wilt averaged almost 29 rebounds per games while Russell averaged 22. . Russell probably was Wilt's toughest adversary. Wilt never got his due, in my view. He averaged 50.2 points per game in one of his NBA seasons. That same year he scored 100 points in a game against the Knicks. The Celtics were a great team and Russell was a great player, but nobody outplayed Wilt Chamberlain on a consistent basis.
Russell and Wilt were friends. Wilt would stayed with Bill many times during their NBA career.
Russell was richly blessed and anyone who enjoys basketball and life knows we have lost a great man.
A true team player and a smile and laugh that warmed our hearts. RIP Bill Russell.
Wilt was all they had, Russell made the Celtics a team.
Russell was one of the best defensive centers. He got most of his blocks based on positioning and cunning rather than simply being a tall guy who could jump. He was adept at a really difficult skill-blocking a shot while directing the ball somewhere useful. When he was an analyst he used to talk about how young centers just wanted to smash the ball as hard as possible (often out of bounds) without any thought to where the ball ought to go after the block.
Most amazing Bill Russell fact to me…
In his final 14 years as a basketball player, Bill Russell's team participated in 21 winner-take-all contests (nine NCAA tournament games, one Olympic gold medal game, 10 Game 7s, one deciding Game 5), and Bill Russell's team won all 21.
As a 12 year old, I was aware of Bill Russell and the mighty Celtics in 1965. And, I had seen him battle Wilt a few times. But, I didn't really have an in-depth appreciation of the man at that time.
However, that changed when I read the article promoted on this cover of Sports Illustrated: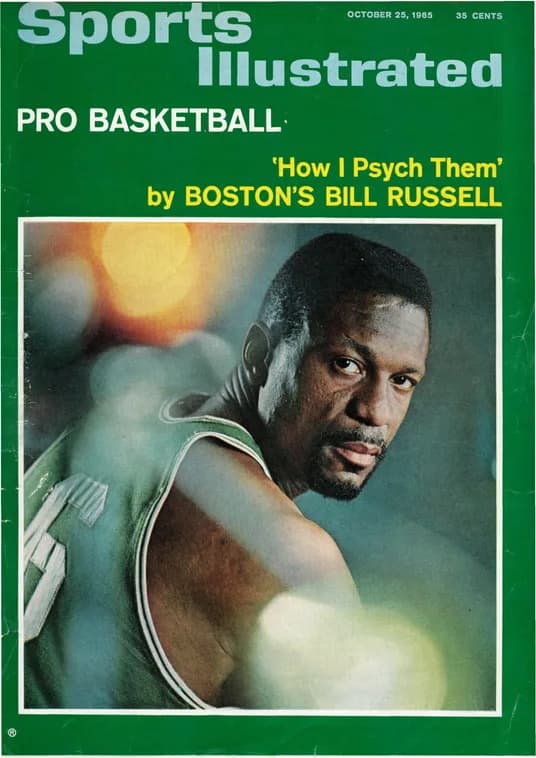 I had purchased the issue for another story in it, but found myself captivated by Russell's image and the concept of "Psyching" someone instead of just being a better athlete…so I read the story, and became a Russell fan for life. The Celtics were my favorite team until the Mavericks came to Dallas in the 80's, but I still pull for them in other games. And, beyond that, I found out way back then what so many know today - that Russell was so much more than "just a basketball player". But, what a player he was!

Unfortunately, although Sports Illustrated has most of the articles from that issue available for link (I went there intending to link the article here for all to enjoy), for some reason the article on Russell is not included (???).

However, the initial reason I purchased the magazine is available, and some of you might enjoy reading it.

This topic was automatically closed after 30 days. New replies are no longer allowed.

/**/