Not sure who J. Daniel is, but he gets it.
And somewhere Tyrone Branyan is cringing for the 45th consecutive February.
J. Daniel appears to live in Indianapolis according to his Twitter profile. Writes about baseball.
I had it on my bedroom door, it was signed by Sid. I don't know what happened to it, after my mother died a few years ago in the rush to clean out her house (it was the same house I grew up in, my parents built it in 1973 and stayed until they died) I think it got thrown away.
There was a lot of things that got thrown away that I regret, but I just couldn't keep everything. Sigh.
MUCH to my wife's chagrin, I don't throw anything away. I did finally pitch some college text books.
I've still got my Super Sid SI, framed, and my autographed "Sir Sid" poster. my all time favorite Hog.
GHG
I still have the magazine with an address sticker to me for Box 64, Reid Hall, Fayetteville. As well at the 18X22 poster. Sadly neither signed tho.
I still have my SI copy of this as well.
I was at the game and was a photographer for the UofA campus newspaper, the Traveler. I was sitting on the floor when this happened. I never got my camera up, just sat there with my mouth open. I was too much of a fan to be a good action photographer!!
Same thing happened to me at Austin when U.S. Reed hit from halfcourt.
This is mine. Pretty good shape. Stolen from Rogers High School library, circa 1988.
Hope the statute of limitations has run out.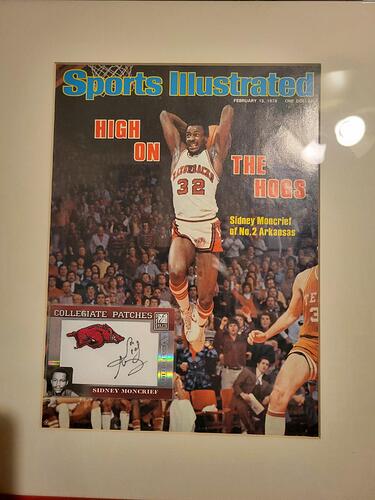 There is no statute of limitations on anything Hog related. The Hog is eternal.
you're safe…murder is (or was)the only crime that the statue of limitations doesn't run out on

Is that a poster or the actual magazine cover?
It's the actual magazine, matted and framed. I bought the autograped card and covered the Rogers High School mailing label with it.
Had the mat cover the face of the stiff getting dunked on.
I'm sure he has a family.

The best to play at Arkansas.

I know I had the mag but not sure where it is today. Really bugs me I don't know what I did with it.

If it had a Razorback on the cover, I still have it.

This topic was automatically closed after 30 days. New replies are no longer allowed.

/**/