Was told this yesterday, Loyd Phillips is in the hospital after a stroke. Don't know the severity.
Great Razorback and a nice man. Talked to him a couple times at games in recent years. Hoping for the best!
prayers…my first Razorback hero
Praying for Lloyd and family.
Prayers to this Great Razorback and a fine man!
I've had the pleasure of meeting Lloyd Phillips on several occasions. Back in my sportswriter past, I interviewed him about the recovery of his son, MacKenzie, who had a harrowing, near-death experience on the field at a high school football game. Years later, he was assistant principal at junior high where my wife taught briefly. He was the tough but fair (emphasis on tough) administrator in charge of student discipline and conduct. He's a fine man and we pray for his recovery.
He was for so many during that era and as noted great person after college.
Prayers and thanksgiving for one of the all-time greats of
Razorback football.
I'm told Loyd has moved to rehab.
Praying for Lloyd and his family.
Praying for the big man to fully recover…
One of my early Hog heroes…(in fact, everyone on this cover was a huge hero of mine).
I've told the story before of how, at my first ever Razorback game to attend in person (1966 against Texas Tech in Lubbock; I grew up in El Paso), I was ushered into the Arkansas dressing room after the game (My father attended the U of A with Steed White, an assistant coach at the time). Keep in mind, that was right after a stunning and very disappointing loss to Texas Tech (first time we had ever lost to Tech), which cost us a 3rd straight trip to the Cotton Bowl.
Phillips was among the 8-10 players I meekly (I was 13) went up to and asked to autograph my game program. ALL of them were perfect gentlemen, and treated me as if I was their little brother (or the brother of another player on the team). I've often reflected on that moment, how crushed they HAD to be, and yet how classy they were to a kid they'd never seen. Those kind of things stick with you through the years.
I'm pulling for you, #70.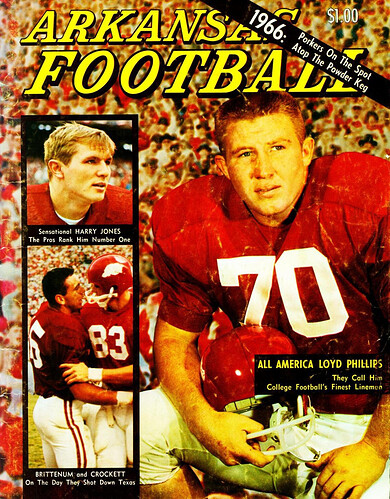 That is one of the best pics I've seen of Loyd. I know I've seen that cover but not in a long time. Thanks.

Loyd is a great man. I got to know him well when he was an assistant principal at Rogers High School when my daughters were there. He took a special interest in them, telling them, "I know your grandfather and he was kind to me."

My youngest was class president and was in charge of the Prom arrangements. She worked with Loyd to secure the band and all the details. She came home one day and said, "Dad, Mr. Phillips asked if you would help be a parent chaperone at the Prom. He said you won't have to do anything because he'll be there to make sure no one gets out of line."

I agreed because I knew that's exactly how it would be. The boys were in fear of Loyd. They really didn't know the Loyd that played in a rage on the football field. They just knew his reputation and that you didn't want to mess with him and no one did.

Prayers for Mr Phillips. He was vice principle of Oakdale when i was a student there in the mid 80's. No idea he was a hog till we had a conversation 1 day and he told me the details. talked about his time with hogs and saints. Took swats from him 1 time and that was enough for me. Played against McKenzie in high school and in college got to know him when he would come into Cafe Sante Fe where I worked. He was a really good dude. Definitely in my thoughts.

My heros for sure and probably the reason I am on this board today. Those were such great guys and teams!

Pulling for you Loyd!

/**/