I hope this means good things for Bobby…
I'm not so sure that's a good decision, yeah he might can make a little more money, but he is on a championship team right now that will be a threat for years.
I'm sure his agent pushing this. They are all about going for the money. Which if his agent has been already talking to other teams could work out well for Bobby financially.
He will be forever known for this high-kick walkoff…
My grandmother (who would be around 130 years old) would have loved that clip. She was a wrestling fanatic. I can remember, as a young teenager watching her. She would yell and scream for the "good guy" and against the bad guy. She was oblivious of anyone else who might have been in the room. It was hilarious.
Both of my grandfathers watched wrestling every time it was on TV. One was a preacher and he never said a bad word but he sure got worked up. The other was a crusty dude that showed up regularly at the matches at the National Guard Armory in Pine Bluff. He was known to run up to the ring and yell at the bad guys. Love this!
This is fake wrestling, right?
My best friend was the ring announcer for the weekly bouts in Louisville (in the 70's). He got to know some of the wrestlers fairly well. His favorite line was "just because they know who will win does not matter. We don't know who will win."
Here is an interview from the LeBatard Show with Bobby prior to the start of free agency. Portis talked several times about making as much money as possible: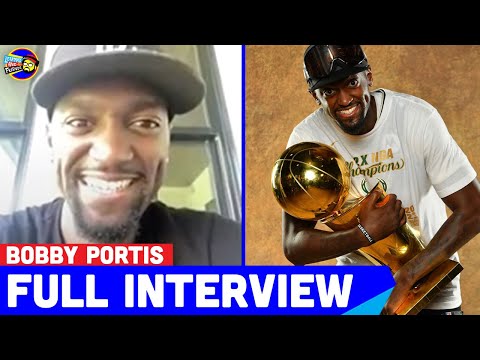 Well exactly nobody predicted that…
Based on the things he has been saying, I just have this feeling he is overvaluing how much he contributed to Bucks championship. He went through an entire series in the playoffs as DNP. Defensive liability was the issue with that. Also on offense, he has contributed primarily as a jump shooter and not as much creating his own shot. What he has going most is the energy he provided coming off the bench.
It will be interesting to see how much money this all can demand. I hope this ends well for him.
Took a lot less than anyone thought.
Maybe we are the ones overvaluing how much we think he's worth to other teams. No doubt he could have gotten paid more, but maybe not by as much as we would like to think. And maybe these other teams also see his limitations and would stash him even further down the bench. I think there are only a few teams where he would excel, and avoid seeing more DNPs. He's not a starter. He's not a sixth man candidate. He could've cashed out on one big contract and faded into retirement in a couple years. Or he can be a key component of a winning culture and I think have a longer career by getting more opportunities to prove his worth in that way. I'm trying to think of some role players that were just reliable winners who cashed in on their championship mettle later on. Idk can't really think of any. Maybe he's missed his payday. Robert Horry?
Smart decision IMO, has a chance to win the championship every year if Milwaukee keeps the same team. He's got plenty of money, I'd be looking for championships.
That's not even the midlevel exception of $6 million. I guess the interest outside Milwaukee wasn't what he thought/hoped. When I saw all the moves Miami had made, I didn't figure there was much money left on South Beach to throw at BP.
However, this story indicates Bobby had bigger offers elsewhere but decided to remain a Buck. And this move allows Milwaukee to keep the midlevel exception to use on someone else in this free agent period.
But at the end of this contract, the Bucks will have full Bird rights and can pay BP nicely, if they wish, regardless of their salary cap situation. And it's still a 20 percent raise, which isn't peanuts.
Good. Think it is one of the best options for Bobby