A look at each Arkansas player's shot chart through 2 games. I decided, too, to track opponents' shots this season: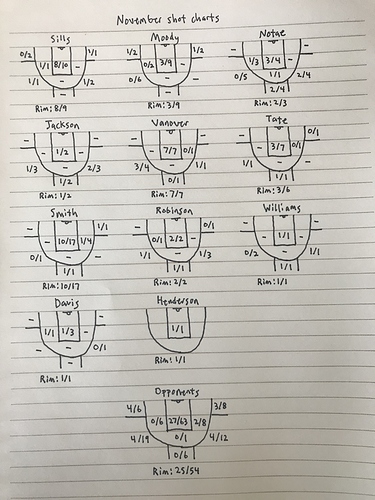 Vanover 7/7 in the paint seems to be upgrade over Bailey or Chaney. Smith 10/17. That's good paint numbers. 27/63 for opponents in the paint seems pretty good as well. Moody 0/6 for what appears to be his favorite sport seems concerning, but then again Desi struggled for a bit last year and got it going.
Reggie Chaney was 30 of 40 at the rim through January last season. He really came on in that area in January. Adrio Bailey was certainly more hit or miss there.
I expect Moses to bounce back soon. I was surprised he struggled a bit at the rim, but he still got to the line plenty, which was good to see. He won't stay down long. He's far too talented of a scorer.
Early season shooting charts are usually not impressive. Will be interesting to see what they look like about 1/4 - 1/2 the way in on the season. After rotations and player roles established. Add in the chemistry with offensive sets.
This topic was automatically closed after 30 days. New replies are no longer allowed.