Here is a breakdown of how each player shot the ball by area of the floor last month: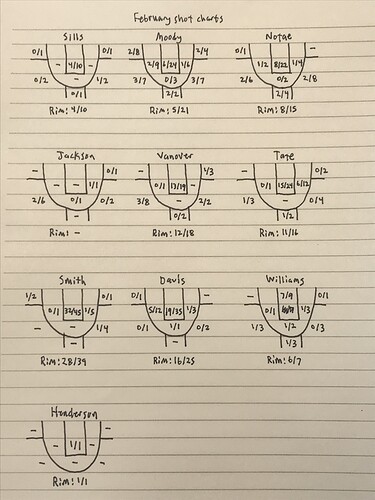 Some takeaways:
• Moses Moody struggled in several areas, especially finishing. He was 6 of 24 in the lane and just 5 of 21 at the rim. He had one more rim score than Desi Sills. He did shoot it fairly well from the wings, though.
• Justin Smith led the team in rim scores with 28 on an blistering 71.8%. Davonte Davis was second in that category with 16 scores. Can you tell which side of the floor Davis likes to play on?
• Connor Vanover didn't play just a ton the last three games of the month, but his wing three-point shooting improved. He was 5 of 10 in February after hitting 2 of 10 in January. He likes the left wing a lot.
• Jalen Tate, I think, is a bit of an underrated scorer in the lane. He has shot 61% there the last two months and scored at the rim 25 times.
• Notae attempted 44 shots at the rim in January. Only put up 15 last month. He shot 19 threes in February, too, after attempting 20 in January from the left wing alone.