Ahead of tonight's game vs. Vanderbilt, here is a look at the shot charts for each player last month: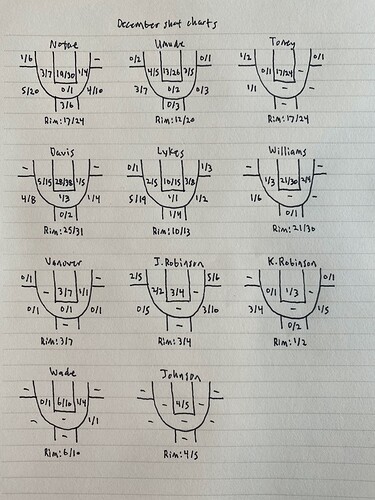 A few things that jumped out:
• Jaxson Robinson is about the only source of corner 3-point shooting for this team. He is 7 of his last 8 overall in the corners. Outside of him, Arkansas made three corner 3s.
• Davonte Davis' numbers at the rim are good. Would like to see more of that. Not wild about the 6/20 combined shooting on 2-point jumpers on either side of the lane. Pretty good month for him shooting the 3 on the left wing.
• More on Davis: 16 of his scores at the rim last month came in the first three games. I like him best when he's attacking and not, at times, settling for jumpers.
• JD Notae and Chris Lykes love pulling 3s from the left wing, and returns haven't been great. Just 10 of 39 (25.6%). Neither were great on 2-point jumpers outside the lane.
• Stanley Umude shot well in his sweet spots – 7 of 10 on 2-point jumpers on either side of the lane. Feel like Arkansas needs more from him around the rim, though, and beyond the arc when opportunities come.