Which probably factor into the decision of when to resume sports.
Right now we know there have been more than a million Americans test positive for COVID-19 and there are likely about 400,000 circulating cases (not recovered, currently hospitalized or died). But that is based on current levels of testing, which are not very good. It's probably some multiple of that.
A Georgia Tech professor produced this graph. The bottom horizontal dotted line is 400K circulating cases, the number we have now; the top one is 4 million circulating cases. Then he shows the likelihood that someone in a particular crowd size will have an active case.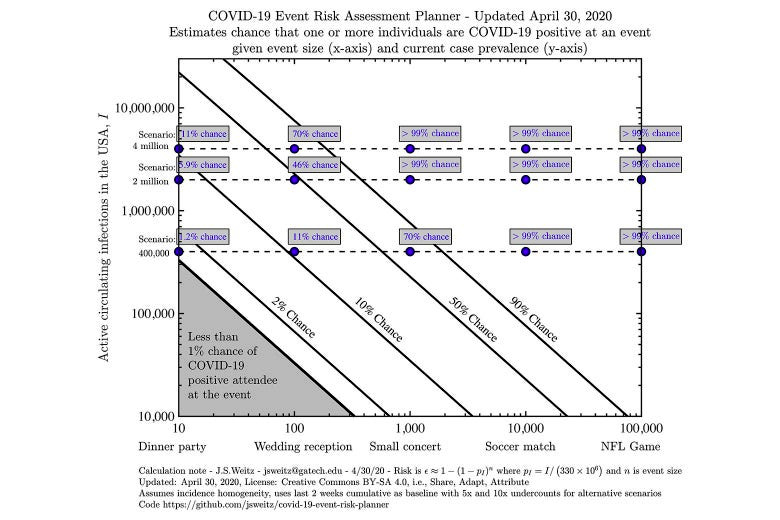 10,000 at a soccer match would be equal to a sellout at Baum Walker. Even at current testing levels, the chance that someone at a BWS sellout would be a carrier is >99%. Bump that up to 15,000 at BWA, 60,000 at RRS or 100K at an LSU game and it's essentially a certainty that somebody there has an active asymptomatic case. Even for 100 people at a wedding (or a big class at UA), there's an 11% chance that someone there is a carrier – and that's if the 400K number is correct, which is very unlikely.
I read this morning that the NFL wants to coordinate the 2020-21 schedule with colleges because they don't want a college season going on when the NFL would be doing the combine or drafting people. If the colleges can't go in September, or November, will the NFL go ahead? NFL is going to release a schedule later this week, starting on time in September, but that one is going to be written in pencil.
What's going to allow us to start IMO would be a reduction of that 400K number to a lot less than that.