Gotta love it!
Phil and Bubba are great!
Great hit. Great call. Love it!
not Razorbacks and not a sport many on board here pay attention to, but the most excitable boy calling any game is Dave Mishckin for the Lightning. We have had many Warren Zevon moments over the last 3 years and Bubba and Phil are actually boring to me.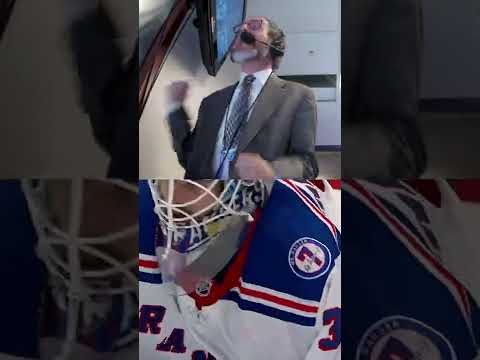 I love seeing the physical movements along with the call and still making the call sound great.

That would be a cool job! You could see the passion as he was describing the play.

Funny, I never really thought about how announcers were "set up" to do the game. They are in their own little room, with door closed.

That makes sense, you wouldn't want them to "bleed over" to either NC radio team, or the TV team. I just never thought about it. I think I pictured them in a big room with lots of other people. Silly on my part.

But in my defense, I think when I see basketball games, aren't all the announcers just down there on press row? How do they keep from interfering with each other?

Typically Chuck and Z will be at the end of the scorer's table by our bench, the opponent's radio will be at their end of the scorer's table. And at BWA, TV is completely across the court.

Headsets are high tech now. Those microphones are noise cancelling, cut out everything except the voice speaking directly into them. And of course the headphones cut out all the noise also, so they're not distracted by the crowd noise around them.

I use a set of those at work now since most meetings are still virtual, work pretty good. People can be talking all around me, but the other end only hears my voice.

This topic was automatically closed after 30 days. New replies are no longer allowed.

/**/