Per multiple media outlets.
Not surprising. That program took a nose dive farther & quicker than we did.
There will be time and money to ride motorcycles now.
Where is Swine? He hates Bobby about as much as I hate Ole Miss.
3…2…1…
Enjoying the news.
Petrino chose to prioritize everything else over what we were paying him very well to do. Wouldn't recruit, worried more about his side squeeze than his defense, etc., etc. I don't know if he cleaned up his act any after he left here, but he maintained his track record of wearing out his welcome after a few seasons.
And you could see this coming, especially after Jurich was fired. New AD wasn't going to cut him any slack; the only question was if they could come up with the cash to pay his buyout, which is reportedly $14 million. I guess they did.
He can't even count on his offensive wizardry any more. UL is last in the ACC in scoring. If Bobby Petrino can't score points, he's pretty darn useless.
My heart bleeds for Saint Bobby.While the man did give us a couple of fine seasons, I seriously doubt that he would have been able to maintain that level of play at Arkansas. A fine QB coach with a good offensive mind. That's not enough to win consistently in today's college football world.
A great day for many insiders
When you Google Bobby Petrino, this picture comes up. About all you need to know: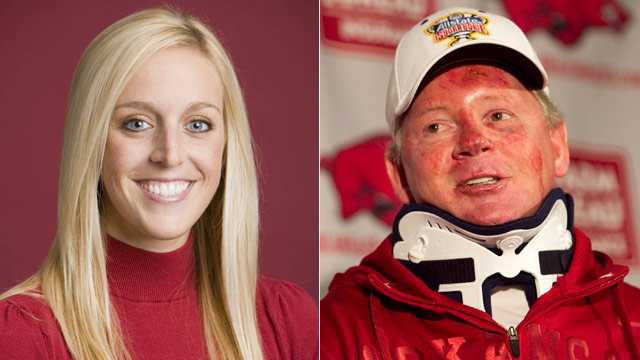 They'd better lock him down quick. I'm hearing Brohm's name come up as an NFL head coach, like for 2019. He's making $3.8 million at Purdue, and he would have to pay $4.4 million if he takes the UL job before Dec. 5; it drops by $1 million after that.
There's no place like home…we'll see.
I understand a lot of fans opposition to Petrino and how he played a hand in how our football program has turned out.
BUT…
Let's keep some perspective that a man has lost his job and quite possibly his livelihood at this point in his life. We can, and I believe should, be a little more compassionate no matter what happened here because this person is still providing for himself and his family. Just my two cents.
He and his family are well provided
He has one of those insane buyouts which will pay him splendidly to not work.
And I don't doubt he could get an OC job in the NFL.
The only thing he will be hurting for is his pride, which ironically is probably his weakness in life.
Love it - the three men most responsible for our debacle have all been publicly humbled in the last year. Jeffie has bounced back professionally , but will the other two?
Maybe finally this yearning for BP by some AR fans come to an end. I never had anything for or against him When it was good, or when it went bad. I had put him behind me, but his name keeps coming up. Let's wish him well and move on. We are not too far from catching up with SEC. With good recruiting, plugging up some holes in the next year or two, we don't have to think BP anymore.
Every loss we have the haters will bring up either CBP, Gus, or BB. For years and years to come

While what you say is true, but I would gladly get fired & swallow buckets of pride & almost anything else in that bucket for 14 million & never look back.
Yeah…he'll be ok. Can have another job if he wants it…somewheres

I suppose that is directed in part at me because I have made it clear that I don't like or respect the man - except as an offensive football coach.

But I don't root for anybody to fail or get fired or take any joy when somebody does.

That's not how my late mom and dad taught me and something I hope I have been consistent about during my 55 years.

/**/