Go Bulldogs, beat tatToOSU.
Yeah definitely pulling for Georgia, got a lot of friends over there
I get the feeling this may be a shootout like the Fiesta Bowl was. Suckeye offense definitely sharper so far than they were against Meechigan.
I guess I understand the seeding, but my personal feeling is that Georgia and Ohio State are the best two teams in the country. If Georgia can take of business with Ohio State, I think they will be very unhappy not having a Big 10 team in the Championship.
Georgia has some big human beings on that team. Really noticeable next to more normal size people.
tOSU gonna kick dawg butt and go on to win the NC.
Tat U looks like a better team right now
Ohio St and Texas are the two teams I most enjoy seeing lose.
But I still can't make myself actively pull for Georgia either, for some reason.
Tired of Kirby, Stetson, their barking, obnoxious fan base, and them getting to play the SEC Championship and the semifinals in their own backyard all the time.
I do hope this game goes to the wire, and they pull it out, but next week will be easy for me.
Rah, Rah, TCU!
Rooting for TCU go southwest conference!
And the GA running back met the fabled sniper
Turf tackle! Thankfully Georgia scored anyway.
You hush yo mouth. aOSU ain't winning anything!
Looks like UGA has pulled their collective heads out of the nether regions
And as soon as you said that they found the nether regions again
Georgia warming up. Ohio State not on the same level with those Dawgs.
This is how I like to watch. The top TV gives me a view of the whole field and it is much like the view from my seat at RRS. I have the sound on the bottom TV.
BTW, Daddy taught me to watch 2 TVs, but he was watching 2 different games.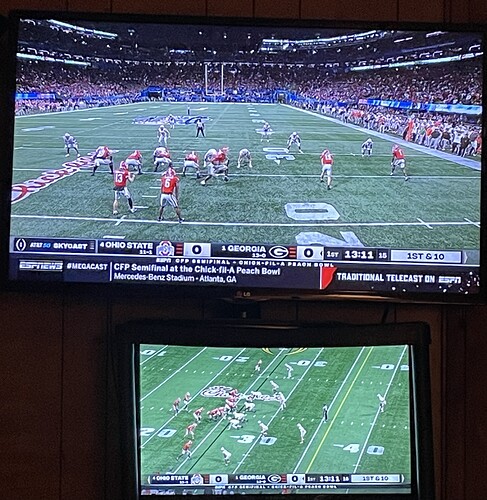 This thread brought to you by Nether Regions Bank.










I used to have three TVs on. Be watching three different games. I will have three or four baseball games on this spring on my laptop.

OC for Ohio State calling some great plays. Wow what a response

/**/