I'm not posting this to start a debate on whether states should be "opening up"; am simply posting for those who might be interested in what other states are doing.
Nevada's COVID-19 Status: As a state, I think Nevada did pretty well containing the spread. Early on, the Governor enacted fairly stringent measures (shelter-in-place, closure of non-critical businesses, elimination of non-essential out-of-state travel, and wearing masks in public). We were one of only 5 states to receive a grade of "A" for sheltering (based upon cell phone tracking). We flattened our curve fairly quickly, and hit our "peak" back in early April. We never exceeded 50% of our hospital bed, ICU bed, or ventilator capacity. If the Governor is due any criticism, he probably could have shut down the casinos (our state's lifeblood) a week or two earlier. Las Vegas was hit hard (>80% of our state's total cases/deaths), as infected folks continued to fly in from all over the country … that gamble didn't pay off.
Anyway, today we began Phase 1 of reopening. Outdoor activities of golf, tennis, and pickleball are now permitted; all have significant distancing/cleaning measures in place. Non-essential business can reopen ONLY for delivery or curb-side pickup of their goods. Testing/tracking processes are significantly expanded, but there is no consensus on whether it will be enough.
Our shelter-in-place and travel restrictions have been extended until May 15th. Gatherings, in-store shopping/services, and of course, casinos are still not permitted. Most of us are cautiously optimistic Phase 1 will go well.
And yes, I did enjoy my first round of golf in almost 2 months!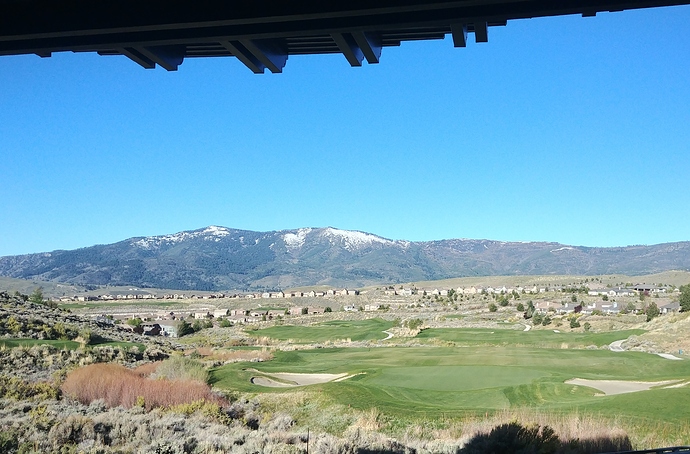 View of the 17th green from my patio.