Tina Louise is the only cast member alive.
I liked Ginger. She had that Las Vegas showgirl body…long and very curvy.
My high school crush was on Sophia Loren. Did you ever see the picture, "Boy on a Dolphin"? When she walked out the water, soaking wet…that did it for me.
I was a big Mary Ann fan, too. Quite a 3 hour tour.
I loved Gilligan's Island. And, also McHale's Navy. I think I saw a PT Boat at the Smithsonian and realized what a death trap they were. Plywood boats.
I had to have seen every episode of Gilligan's Island 3-4 times. When we first got "cable TV" and picked up channels from KCMO, Atlanta, Dallas, and Chicago I was able to deftly switch channels between them and see multiple 3-hour tours each afternoon. Same with my other childhood fave, Hogan's Heroes. Seldom on replay, but when it was it made an impression, was That Girl, featuring Marlo Thomas. She and Dawn Wells were "it" for obvious reasons.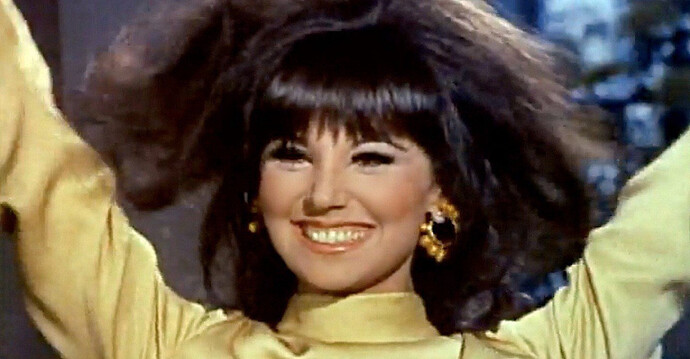 Marlo Thomas is "That Girl". She started with her boyfriend in the show, Ted Bessel, who played Donald Hollister. I am a TV nut, as you might guess.
I, too, had a crush on Mary Ann. Ginger wasn't even close.
Loved both Ginger and Mary Ann
Liked them both but Janet Lennon (Lawrence Welk) was my first love.
Got to see her in person in Branson years ago. She was still beautiful.
I waivered constantly between Ginger and Mary Ann. And then there were the girls at Petticoat Junction. That was a great cast on Gilligan's Island. Very sad to see them leave us.
One of those just about got JFK killed in WWII, more than 20 years before Dealey Plaza. Of course anything was gonna lose a collision with a Japanese destroyer that was trying to run over him.
Loved Mary Ann, and Ginger to.
Petticoat Junction gals, Hee Haw gals, Bewitched. Agent 69 I think on Maxwell Smart. Batgirl & Catwoman.
But my fav was Goldie Hawn on Rowan & Martins Laughin. She was way Riskay for that time. With I dream of Jeannie (Barbara Eden) a very close second.
Whew,
Me too. Loved "That Girl."
For the record, it was Mary Ann hands down over Ginger!

This topic was automatically closed after 30 days. New replies are no longer allowed.

/**/