I need some help on value of a card collection. I prefer to talk to someone. It's for a friend.
If anything since 1990, largely not worth much.
If pre-1975 you have a shot at some value.
Condition matters a lot (too much, in my opinion). Phone calls can get you in the ballpark but the novice eyes looking at "four corners" are a veteran collector noting "two nicked corners and two rounded corners" and a professional grader (way too proud of their services, in my opinion) will give you a numerical score that stings, more often than not.
If you get back to 1956 and before, you likely have some value regardless of condition.
Little things are so critical: Post Cereal boxes in the early 1960s had cards on them, but you had to cut them out. Entire boxes flattened by snipping a side to create an opening, but not adjacent to the card itself, is rarely seen, but valued. If you don't see the entirety of the dotted line to cut on you lose value. Ugh.
1953-55 featured two of my favorites, Red Heart dog food (1954 only) and Redman tobacco. The former were often stained by the dog food, and the latter had a coupon on the bottom to redeem an extra pouch of tobacco. Finding non-stained Red Hearts and coupon-intact Redman cards is rare. Dad found a dozen of the latter a few years ago and cherished them greatly. He hadn't collected them earlier in his life but these were so beautiful he added them to his personal collection vs. selling them.
A few pics and I can help with condition and years/brands. I haven't bought/sold consistently for years. Dad befriended John England of Sports Cards Inc in Ft. Smith in the early 1970s (I met John at his first "show" at Creekmore Park in about 1975), and was a part-time dealer from about 1975 to about 2020. He had some great cards pass through his garage "shop" in the early 1980s, including a fistful of good condition 1930s era Goudeys, featuring 3-4 different Babe Ruths. He had a guy walk in with 12 of the 1952 Mickey Mantle that is kind of the gold standard (sold only in the NYC area late in the year; as much as 90% of the print run was dumped in the Hudson River by Topps Card Company). Dad couldn't afford them all and sent him to … John England.
If you were ever in John's shop you'll remember the winding staircase up to his shop, through Vivian's Bookstore which occupied the downstairs. I reconnected with John when I was teaching at Westark Community College (Now UA-FS) and worked for him on/off for a couple of years. I ended my time with John about the time he moved out of the bookstore. Sadly, John died of a short bout with cancer a few years back and I never had a chance to reconnect with him like I intended. He called Dad about 10 days before passing and they had a great conversation, and Dad relayed my strong connection to John.
Clay, if I can help I will. Not sure I am equipped to do much beyond identifying and some crude ballpark numbers. PM if I can help!
When and what did you teach at Westark? I attended there in 1981 - 1982.
Missed you by a bit: I taught public speaking 1989-1990.
I believe almost all of the collection is from about 1980 to about 1990. There is Topps and Donrus. She brought the collection to the fly shop late yesterday. I'll take pictures later in week. Lots of certain stars like Pete Rose, Dwight Gooden, etc. They are all in binder sleeves.
But there are no "old" cards.
She said there are lots of Babe Ruth cards. But they are from 1982 in some kind of collection called immortals.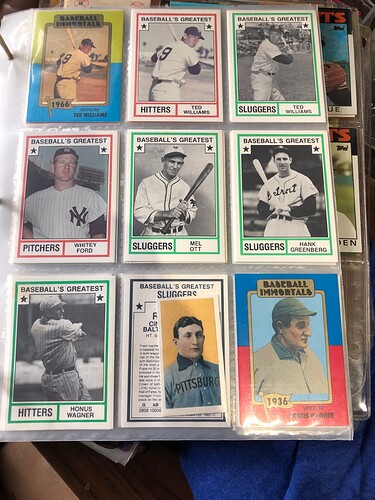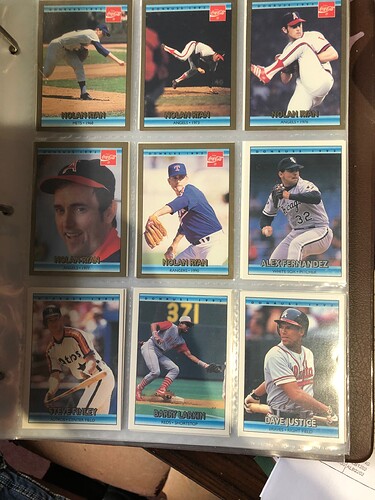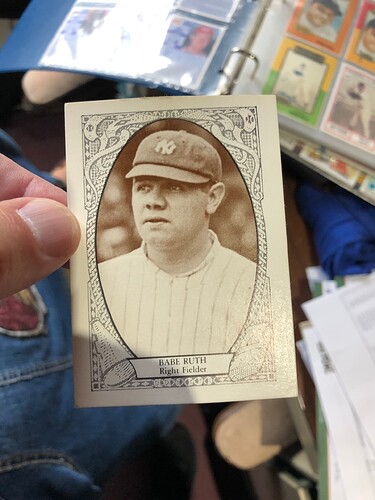 Talk about a dose of nostalgia.

This topic was automatically closed after 30 days. New replies are no longer allowed.

/**/