I wish Barry GL. He is going to need it, UNLV a coach's graveyard.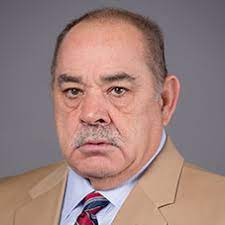 I'm tanned, rested and available.
Sam I'm sure has a Rolodex for all position coaches.
I would be looking for someone who is in Kirby's coaching tree and knows his scheme very well if I were Sam.
He needs to be an elite recruiter and someone who believes in a 4 Man DL which pretty much all the elite teams run and is very multiple in the blitz packages. Someone who can confuse the offense. That was one of our problems everybody knew where we were going to be 90% of the time
Maybe we should look at Gary Patterson he can coach defense and he has east Texas connections
Pav, you're just wrong.




*is Patterson on staff at Texas or is he a consultant? *

Yes, he has. He had some stout defenses at Missouri.

Tell that to Dan Enos and Sean Lewis

The chief. Coaching middle school football last I heard….

Well, total defense allowed this year was 453 yards a game, his first defense gave up 451 ypg. Last year was decent, 367 ypg. Comparatively, Chad Morris's last team and his worst defense allowed 450 ypg. I looked ten years back, was our worst stats for Total Defense.

All the best Coach Odom. A good man who helped us resurrect our program. Proud for him.

I agree with you 100% Youda! Need to keep LB coach

And about 30 yards of that average was piled up by Ole Miss in garbage time after we had blown them out.

Well, I'm just not sure that's saying all that much.

There were times during CBO's years when the defense played pretty darn good. And times when we looked horrible. And I'm taking into consideration for injuries. I think CBO had a lot to do with improving the intangibles around here though and probably helped accelerate CSP's transition to HC. All in all though he'll be remembered favorably by me for his contributions even though the constant 3 man front drove me crazy sometimes.

Thanks for the laugh today.

Problem is, he played for Odom…gonna be hard to keep him, I'm guessing.

I appreciate many things about Coach Odom; being a trusted support and resource for Coach Pittman as he embarked on the learning process of being a Head Coach at a Power 5 program, being a class representative of our University and much more. Was the defense always what I had hoped for? No, but I recognize how much easier it is for me and others on this forum to be message board coaches. I wish Coach Odom much success and happiness. Thank you for being a Hog.

A few that might deserve a look:

Glen Schuman - Georgia Co DC
Jim Leonard Wisconsin DC
Scott Hazelton K State DC

/**/