Smith was #0. Leaves. Lykes wore #0 at Miami.

Toney wore #5 at Pitt. Moses wore #5 for us, If he leaves,

JD wore #1 for us. Gardner wore #1 at ECU. If both of those happen,

Stanley Umude wore #00 at South Dakota. We don't have a #00. However, under NCAA rules you can have a 0 or a 00, but not both. Maybe he'd take Tate's 11.
Marreon Jackson wore #3 at Toledo. Desi wore #3. Leaves. If we get Jackson

Interesting how this matches up for the most part, if any of these guys care which number they get.
I don't think we're after anyone in the portal who wore #24 (Ethan). Chance Moore wore #25 in high school. And Akol Mawein wears #3 in juco.

I did notice when we signed Mawein the graphics folks did one with him wearing #2, which is Vance Jackson's number.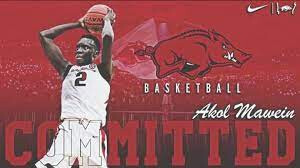 Kamani has already been assigned the #20 he wore at UALR.