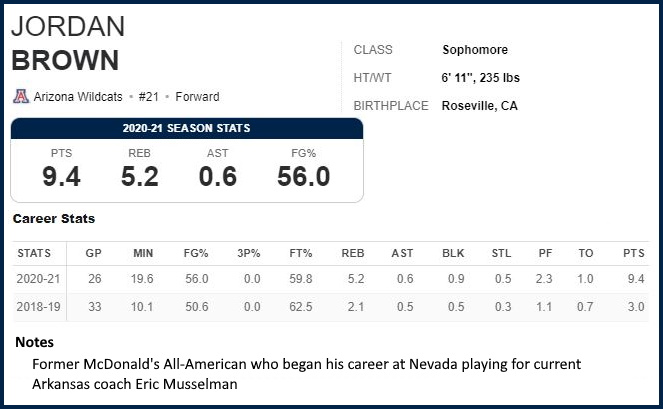 Very interesting indeed mdhog, especially because of the previous relationship with Muss!
Well, this is an interesting development. Any know the reason(s) why Brown transferred from Nevada in the first place?
If I recall, Brown may not be the biggest Muss fan. He came in as a 5-star McD AA, and mostly rode the pine as a freshman. Regardless of the reasons, he was upset with the lack of playing time.
Young Mr. Brown wanted to play offense. He either couldn't or wouldn't play defense to Muss' standards. Resulted in more and more bench time. Transferred at end of season.
No idea whether he departed on good terms with Muss.
Brown left Nevada after Muss left. I was surprised he didn't stay at Nevada since his problem was solved with Muss's departure. He may have wanted a fresh start at a new place. He may have come to detest Reno while sitting on the bench and having too much time to think. Or did not hit it off with Steve Alford, who was hired instead of player recommended Gus Arsenal. Gus may have recruited Jordan, not sure.
Technically, factual. But it was common knowledge during our touney run that he was transferring out at season's end.
@RichardDavenport without dropping names, do you believe we currently have a silent commitment that will be announced fairly soon?
I'll take a shot at this until Richard sees it.
After many years of doing this, I do not believe there is a thing as a silent commitment or private commit.
While somebody has said they may be coming, I don't view it as a true commit.
There have been plenty of the 36 years I have been doing this that have silently or privately pledged only to change their mind.
All that being said, do I think Arkansas will add somebody else or maybe 2? Yes, I do.
Thanks, DD. And I agree on the silent commit thing. I only asked because it's going around elsewhere that we currently have one silent commit that will be announced "soon." Whatever that means.
It ain't very silent if message boards know about it.
Come to think of it, these days committed is when you actually enroll and go to your first class.
But then you can opt out, so

This topic was automatically closed after 30 days. New replies are no longer allowed.

/**/