Is the Black Bear, Land Shark, whatever, "upgrade" of their mascot officially over and reversed?
They're still the Rebels. That hasn't and won't change. What did change is that they got rid of Colonel Reb, which makes sense because he was a depiction of a slave-owning plantation owner. After the Colonel, they had the Black Bear as the fool on the sidelines, and now have Tony the Landshark.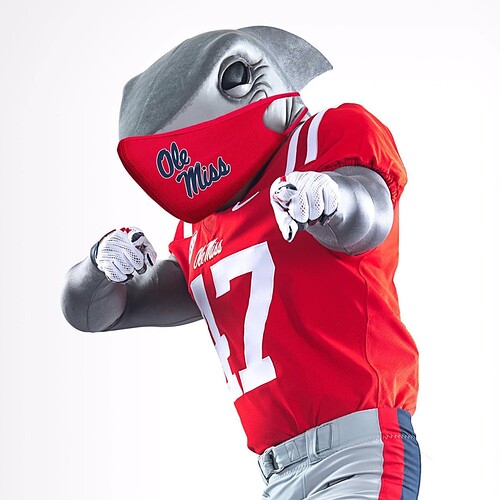 They should have replaced the slave owning plantation owner with a C.E.O. from a Big Ag corporation. To make him more rebelious, they should depict him in an open collar shirt.
Have not heard much about the black bear of late. So I guess that's over. Or extinct.
I'll continue to call them flopnecks
They have a real identity problem.
Colonel Rebel character and Rebels nickname first appeared in the 1930's, then became an "official" sideline mascot in 1979. It was dropped in 2003, due to its obvious antebellum connection. They adopted the Black Bear mascot (named Rebel) in 2007, then dropped it in 2010 from lack of support. In 2017, they brought in Tony the Landshark and the shark fin hand gesture…which looks like the silly raspberry thing the Three Stooges used to do.
Their mascots have changed over time, but they will always be the "Rebels." Some believe today the term is a direct reference to the University Greys, a MS Infantry Co formed in 1861 of only UM students. They fought fiercely for their cause wearing their grey uniforms until being wiped out at Gettysburg. They didn't flop; they suffered 100% casualties on the battlefield.
Maybe that's why their teams today wear grey pants. Who knows what they think? I don't want to care.
They are LandCarps to me.
(Counseling starts for me this week.)
Yes. Their nickname is still "Rebels" but the mascot has changed a couple of times. It's not unusual for a team to have a mascot that does not reflect the team's nickname. The Army mule & the Navy goat are mascots, but they're the Black Knights (or Cadets) and the Midshipmen (Middies.) The Tennessee nickname is "Volunteers" but their mascot is a bloodhound.
Or at least in hibernation.
They never dropped Rebels as their "team name". They have always been the Rebels. They just got rid of Col. Reb and replaced him with a Black Bear. They didn't like the Black Bear so now the have a stupid Landshark for the on field mascot.
All of their sports teams are still the Rebels and always have been.
They are and shall always remain Rebnecks. Except for the football team, which are Flopnecks. I can't come up with a good description of the shenanigans from their baseball team, but those have been overshadowed this year by the antics emanating from Lindsey Nelson Stadium in Knoxville anyway.
Totally agree, Swine, about Vitello's and the Vol's antics this year. Tossing the bat at celebrating Auburn players after the bat flip should cost Tony another suspension. He's not the batboy. Ump missed that ejection call.
Was Vitello a hothead jerk when he worked for DVH? I don't remember that.
A poster suggested that when the Rebs come to Arkansas we put Mississippi on the scoreboard rather than Ole Miss. Or maybe Ole Piss….

Maybe Kiffin's team should take a lesson from the University Greys and never flop.

Tony could get animated in dugout at Arkansas and would feign disbelief in third base coaching box but nothing too crazy.

IIRC, Phil Elson called them the University of Mississippi for a while, thus avoiding calling them Ole Miss.

The origin of the term "Ole Miss" is supposedly the way slaves referred to the matriarch of a plantation to distinguish her from her daughters or other younger women. Always seems to come back to slavery where Mississippi is concerned, doesn't it?

Amazingly, they get a free pass with it.

I went to a high school baseball game today. Our Valle Catholic Warriors were playing the Park Hills Central Rebels. Incredibly, the Central Rebels are still using that old colonel rebel mascot that Old Miz retired years ago. It is on all their uniforms, even the girl's basketball uniforms. I don't get it. This is in Missouri, not deep in the heart of the old south.

This topic was automatically closed after 30 days. New replies are no longer allowed.

/**/