Any chance we see him this week?
Don't think so. Haven't seen where he's even practicing with the team.
Nick can't pass the ball to himself and do it all our players that are healthy should have won this game today. They played a scared
In the second half
Guess I watched a different game, even the announcers who probably gave less than a full shitz about the Hogs commented on the high percentage of assisted baskets.
Didn't look scared to probably the best game they have played since Maui
Toss up game on the road against a Top 20 team
More importantly, WE look like a Top 25 team again.
WE have got to take care of business Tues at Bud Walton, for sure.
The announcer on todays game said he doubts smith will come back.
I heard that, but that was purely a guess. Jimmy Dykes actually talked to NSJ. I'll take his word over pure speculation.
2weeks after LSwho game. What JD said.
Fran F. don't know squat.
Nick wouldn't even be in Fayetteville if he was done, but if he is gonna play for us, the time is now.
Sure coulda used him today.
At this point I don't expect to see him this year.
Would love to be wrong.
In any case I thank him for choosing to be a Hog when he could have gone anywhere.
And I wish him the best, whether at this level or the next.
Sure I hope Nick comes back,starting to make sense that he wouldn't, risk would be greater than the gain. We'll see.
Is he with the team practicing?
Shooting is all I've heard. Hasn't participated in any team stuff as of Saturday.
NSJ could be riding stationary bike or doing something like antigravity treadmill to stay in some semblance of shape. Won't be in full game shape, obviously.
Antigravity treadmills are cool. They support most of your body weight so you can get a workout without having the full weight on a sore knee.
He could be if his agents give him permission. I don't think the University of Arkansas coaching staff in any way is controlling what he is doing.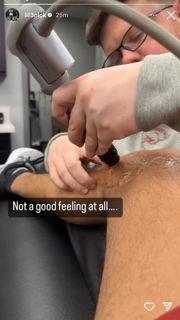 In case y'all are curious, go check nicks Instagram story. Doesn't make me second guess those mcl rumors at all. I'm no doctor but I know where the mcl is. Mcl sprain is also the most common knee injury of all according to Google. Anyways this is what Bobby Portis and Kevin Durant for example are currently dealing with. I'd look to their timeline for return.

/**/