To hear the whole thing (some great stuff here), go to Episode 105.
When it comes to coaches and ADs, it is hard for me to figure our what is real and what is coach-speak.
When you have a coach in demand, It is like "I decided to stay before I decided to leave".
Just let it play out. Not sure we know what Muss's ultimate objective in coaching is. Would he turn down Kentucky or Duke or UCLA? I don't think we know that.
I just want Muss around one more season where he can see the true fan base and how crazy this basketball state can be. Don't think he will run off anytime soon.
When & what will it take for Arkansas to become the ultimate & final destination for BB coaches, same as UCLA, KY, or KS? We have the facilities, rabid fan base, & great winning tradition via Richardson & Sutton.
Coach Richardson made UofA & NWA his final coaching destination, & Coach Sutton stated that his biggest regret was leaving Arkansas.
Perhaps Muss recognizes UofA as the best college environment to coach & live.
Multiple national championships and frequent Final Fours and Elite Eights. If Nolan would have continued his run thru early 2000 or so, it would have done it. That damn phony investigation cost us big time. But for that, Nolan may have done it. That 1995 class was #1 until the investigation broke it. Just an opinion.
If Muss can do the same over the next 10 to 12 years, we will have it.
While we don't have the elite long-term status of UCLA, KY, NC or maybe Indiana, we have enough high-level success combined with other tangibles & intangibles to make us one of the most desirable jobs in the country. When Sutton left for KY, we had not become that. I'm not worried about losing a coach to a "better" job. We might lose one because of some reason that's peculiar to him ("going home" for example), but that's always a possibility with any coach at any school.
We won't be out-bid or out-facilitied or out-fanbased.
wives and children have a lot to say about it. For instance, he isn't leaving because his wife doesn't like some of the other places, and enjoys it here. Didn't have anything to do with winning or the program.
Assume Coach Muss also has some say in his career, including where he coaches & where they reside.
Program has a lot to offer, huge fan base that will fill 20,000 seats ,great tradition, Great conference,I can see him staying quite a while.
I should have added that we also provide him with as good a chance to win a national championship as any program in the country. That probably includes Duke, KY, & UNC. Those have great traditions & can also win one, but if a coach can get to the Elite 8 here, he can win it all here. Both have been done. The latter has been done several times.
Baylor just became the 37th program to win an NC. That means there are 320 that haven't. Including Gonzaga. We have. And it can happen again.
I looked that up the other day and it made me wonder how many schools have at least two.
If Wikipedia is correct, only 15 schools have won two or more.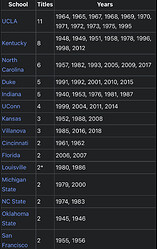 Wouldn't it be nice to join that club…

That list is correct. 15 with multiple titles.

Yes it would, and if the OmaHogs win a natty, we will be one of only 5 schools to have a national championship in football, basketball, and baseball. Florida is the only school in the SEC that has done it…so far.

Sure, he does, evidenced by the fact he's moved every 2 years for the last 20 years. He's put his family through a lot. He knows that. At some point it's more about them than him. This may that time. IDK, but he's had his say, that's for sure.

There's also a lot to be said for moving for a promotion & career advancement vs. staying put once you've reached the top level. Arkansas is a top level, career apex kind of job. I suppose a coach might prefer the NBA to any college job, but for college jobs there are about 10 that are top tier & we're one of them. People around the country still know Nolan Richardson & 40 minutes of hell. Muss can do that from here without a problem. IMO, easier to do here than at Baylor despite what Baylor just did.

What do you think are Top 10 college basketball jobs?

Oh, I'd say UK, UNC, Duke, UCLA, Mich, Louisville are among them. Ours would make 7. I'd probably add Indiana. Beyond that…?

Love this thread and subject. Muss has accomplished great things the past two seasons at Arkansas. It has been fun to watch; I too hope he's our HC for several years. However, I don't sense that he's looking for a final coaching resting spot, accordingly, I doubt he's our HC for more than a couple more seasons. Still, he's been a great addition to our history, and just one more season is gravy.

/**/