Can you post a Picture or a memory from great games in the past?
I have serveral. Almost all from my days in the Army - finding a fellow Razorback Fan was a joy and it felt like home
Like sitting in a Tank Turret listening to Command radio in Germany when the 1SG drops by throws me a Stars and Stripes New paper (real paper) and says "here you go Sir - I thought you would want to see the sports section" and there it was Arkansas 42 utexass (Spit) 11 - I was dog tired and all of a sudden I was happer
There was Arkansas vs Houston in 1989 - In a command Hunner listneing on a weak battery operated radio to a game that was back and forth and up and down - Best Razorback Game I ever head on the radio with that wonderful "Mighty Quin" WIn Ark 45 Houston 39
There was the Final Shootout vs Utexass (Spit) 1991 - Just back from Desert Storm and back in Hohenfels Germany - in the training box - I so wanted to ehar the game - AFN wasnt carrying it - my commo chief fixed me a antenna and gave me directions and a freq for my Army AM radio - I had a German Captian with me and I slipped and slid up "Old Baldy" in black out drive using the "Green Tolet Paper Tunbe" PVS-5 night goggles to drive myself up the mountian to get in postion to set up that radio to hear the game - My German Bundeswehr Captain swore at me in Deutsch all the way up that mountian LOL - We dug a hole and made a small fire and cooked Brats using Brotchen bread rolls as hot dog buns - - I can not confirm or deny a Beir or two was consumed as Arkansas defeated the Evil Orange Empire in that last Old SWC conference game 14 to 13. I also cannot confirm or deny that someone broke operational siliece and Called the Hogs late that night form "old Baldy"
There are memories of beating TAMU in "INlaw Football" We would beat them Home and they would be us at thier place.
Then here a picture in Baghdad 2004 awaiting another battle with the Evil Orange Empire (Austin)
I got called out ona mission and missed the Matt Jones Fumble - It was just as well - I hate seeing Arkansas lose
But my time with these Razorback Fans was awesome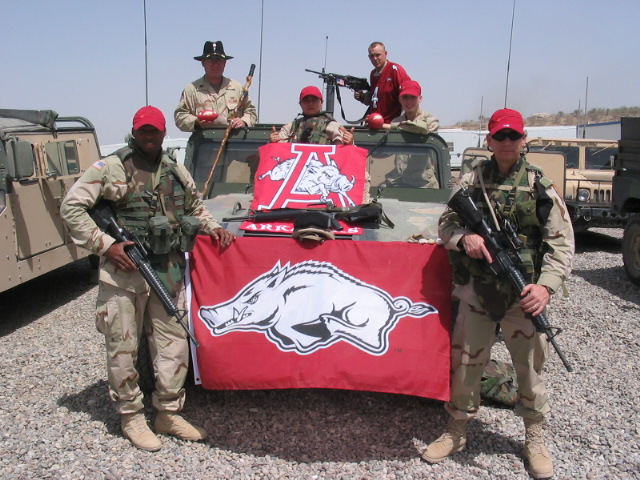 Razorbacks in Baghdad getting ready for the Utexass (spit) Game
Got any Pics and memories you want to share