Happy for Mason that he is getting a shot at his dream in the NBA. Sad because I'll not get to see him as I refuse to watch the biggest whiner in the NBA.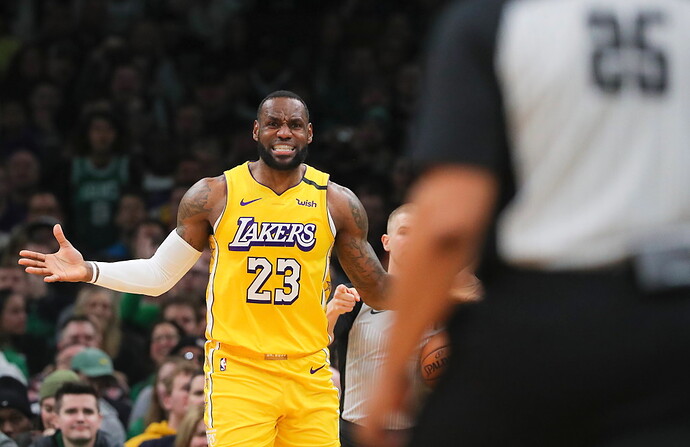 Votan, I'm like you LeBron is my least favorite NBA player. I watch the Lakers to see Austin and now Mason and overlook the whiner.
Yes, he's never had a call go his way… ask him.
Well if you don't watch him, how do you know he is still the biggest whiner? I can think of a lot of whiners through the the years and still currently play. Harding and Westbrook are two pretty big babies, if that's what we are calling folks that get fouled all the time. But you do you!
I find the greats are rarely satisfied with anything.
For me the golden age of NBA basketball was when the Lakers had Magic, the Celtics had Bird, and the Sixers had Dr. J. To me the NBA declined after that. They had some great players since then, but it seems too watered down and rule restrictive. And the few times I've watched a game these days, I see no reason to change that opinion.
Late 80s to early-to-mid 90s for me were amazing. The Eastern conference was must-see tv.
I miss watching Charles Oakley telling everyone to settle down in that way that only the Oak man could.

I think most players at any level of basketball think they hardly ever commit a foul and they get fouled a lot themselves. But the refs give them more rope to complain at the NBA level. Especially the superstars.
I don't watch the NBA much because the effort level is sketchy until about the last four minutes. Don't wanna wait two hour plus to get to that point.
Yep, has never matched that era to me. The Knicks were strong too.
Yeah… liked me a bit of Patrick Ewing at that time too. Some Stockton & Malone at Utah. Some Shawn Kemp and Gary Payton at Seattle. Portland had Clyde the Glide before he went to Houston to rejoin The Dream.
I lived in Dallas at that time and enjoyed those Maverick's / Laker's games immensely. Magic, Kareem , Worthy vs Aquirre, Blackmon, Roy Tarpley and crews. Great Basketball!
Reading the trend here. Last night was thinking about who would be my all time starting five. Couldn't do it. Point guard Magic, Frazier, Cousey etc. Same with every other position. Too many good ones over my lifetime to pick five
Oscar Robinson has to be in the mix for all time point guard. He was the guy I tried to copy as a point guard.
Earl, (the pearl), Monroe was one of my favorites!
I saw Dr J play the New Orleans Jazz in the superdome during the 77-78 season.
I went to most every Jazz home game that season. Dr J was the best scorer I have ever seen in person.
And the Jazz had Pistol Pete …. one of my all time favorite ballers.
The Pistol was fun to watch!
If I remember correctly DR. J was so fantastic that the NBA had to absorb the ABA just to get him into their league. DR. J has always been my favorite NBA player. He was doing "AIR" stuff before Jordan. Don't get me wrong, I acknowledge Jordan is the GOAT, but DR. J was and will always be my favorite plus he was The Fish that Saved Pittsburgh — drops mic.
Agree about Dr J, By far my all time fav. With that fro flying up the court and thru the air.
Some great memories from some of the greatest players in the last seventy years. Too much politics now, I will not turn a game on.