As expected. SEC ain't getting any easier.
gonna be a jump in salary at LSU from paying Fargas 700,000 to Mulky's 2.1 million…might make more than wade!
Wade won't be the only one at LSU making strong offers now.
SAO Wade makes $2.5 million. For now.
Wonder if the five star center from Arkansas that signed with Baylor will go into the portal due to Mulkey coaching change. It would be dream come true if she flips to Hogs to play with talented in state players Elauna, Jersey and Sasha among others.
She must see Scott Drew as overshadowing her now. He's got a title now.
Her poor language will fit in well at LSU! She may be a good coach but she needs a filter!
If she can turn a school like Baylor into a national champion, she can definitely do that at LSU. LSU is like a magnet to a lot of recruits. Question is whether she still has that fire in the belly,
Just saw something that UA grad Sytia Messer, who has been Mulkey's recruiting coordinator at Baylor, might be her replacement in Wacko.
pj…excellent question. Lou Holtz and Steve Spurrier were never able to recreate the success they had at Notre Dame and Florida at South Carolina. I attribute that to loss of "fire in the belly". IMO
She needs to find her lost stash of Cover Girl, Maybelline and Botox.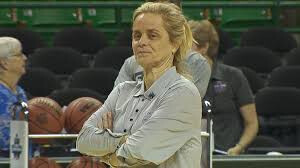 I just don't think SoCar has the same ceiling as ND or Florida, at least in football. You can win an NC there in baseball or women's hoops, but I don't think you can in football. And there you have Dabo sitting 130 miles away with championships and the Chickens can't win any.

I guess one of the side benefits for us not so good looking folks, is the aging process is not such a drastic change. Used to think she looked pretty good, not so much in this picture.

Which kind of begs the question - if Clemson can a natty, why can't USC? I'm not saying they will, but I think Spurrier beat Clemson five years in a row at one point.

Maybe because the Cocks play in the SEC, an absolute murderers row? Clemson only has to worry about Fla St and maybe Miami, but those 2 teams are nowhere near what they used to be.

Mulkey announces her arrival at LSU

Seems LSU will pay and/or do just about anything to win. I know that LSU has an ally in a top NCAA position, but wonder how much protection he can give. Nothing illegal about throwing a boatload of money at Mulkey, but just another bullet in the arms race.

Then Clemson has to beat teams like Alabama and Ohio State to win the NC. A team that gets into the CFP solely because it played in a weak conference is going to be exposed quickly. Like in the first quarter. Is the SEC better than the ACC? Certainly. Does that mean CU wasn't the best team in the country in 2016 and 2018? Nope.

Clemson deserved to be in CFP every time and proved it. Obviously they weren't at the pinnacle yet during Spurriers years at S Car.

/**/