Transfer. Portal! I can't imagine that we don't reach out, checks all the boxes!
Wow, he would be a huge get for some lucky team, especially at this point in time. Absolutely checks all the boxes.
"I was recruited by Musselman, so we had a pretty solid relationship," Obanor said. "And things didn't play out, but it's all God's plan."


Hopefully no hard feelings there…
I believe Muss and family is on Vacation. Knowing him, he'll get wind of Obanor in the portal.
This would be an awesome get!
Might not be a better fit for Muss' "positionless" system, if he'd had his pick of every player in the portal, than Obanor. Really hope we make a run at him.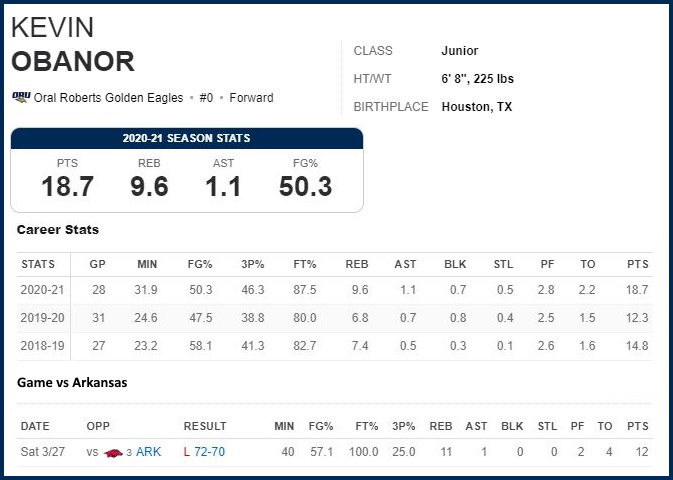 Hmm… maybe there's a character flaw or something we won't be made aware of.

I don't think so. I read it to mean Obanor didn't choose Nevada (where Muss was at that time) , but chose Oral Roberts instead. He's hoping Muss doesn't have hard feelings against him for not choosing to go to Nevada when offered. I think Arkansas also offered him, but it would have been Mike, not Muss.

Thank you harleyhawgidson for clearing up my misunderstanding.
I was thinking when I saw this particular forum that it was a situation that originated @ Arkansas, not Nevada.

I'm not on Twitter. Does anyone know if Muss has reached out to Kevin yet? Seems like he would wrap this class up with a bow and a bang. Doesn't seem like he's likely to get drafted.

The most important thing is if he's gonna stay in the draft. When does he have to make that decision? Seems like it should be very soon.

RD…any thoughts here? Are we potentially high on his list?

One more day. Guess we'll find out tomorrow what Obanor's plans for next season are. He seems to be an ideal fit for what Muss seeks in a 4/5 player.

Starting to seriously wonder if Obanor is staying in and not returning to college.

Projected NBA draft range: 2nd round to undrafted

Pretty much the same draft range as Mason Jones. The jury is still out on whether Mase made a good decision or not. It would be Christmas in July if we got Obanor. I always wondered if Muss was saving that last spot for someone who was dropping out of the draft at the last minute. Guess we'll find out tomorrow.

If we land Obanor I'll cry and my wife will think I'm crazy.

/**/