Anyone else watch that!! That was insane. Some serious consequences need to be handed out.
At one point a Kansas player picked up a chair to use as a weapon!!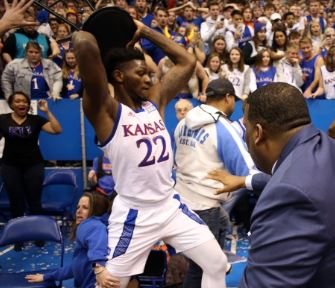 Sorry, no excuse or reason can cover that. As far as I'm concerned he'd be done for the season, maybe done at the institution as well! He picked up a char to fight with!! That could be considered a deadly weapon!! Fortunately he was stopped before he could use it! Wow!!
If you haven't seen it here is a link to a story about it:
https://www.msn.com/en-us/sports/ncaabk/ku-k-state-players-brawl-in-seating-area-behind-basket-at-end-of-jayhawks-victory/ar-BBZcp6z