Bob Holt writes on the life and career of the winningest coach in NCAA history.
That saddens me. I worked with John and the track team quite a bit and we got to know each other quite well. Years later, I was on campus (this was probably '94 or '95) and dropped by to see Rick Schaeffer at the Sports Information Office. John walked by, saw me there, and immediately came in to say hello. He hadn't seen me in probably 12 years, but it was like we'd been in touch the whole time.
And as a coach, wow. Bob's story sums it up. He was the best coach ever. Forget Lombardi and Belichick and Saban and Wooden and K. He built Arkansas track from nothing (when I was a kid running the 880, Arkansas State was the "track school" in the state) into a dynasty, kept it there for 20 years and it's really still there.
I'm sick to hear this. Talk about a legend. I agree with Jeff. No coach in any sport dominated the way he did.
Prayers for a Razorback legend and his family.
Sad to see the great man gone… jaw dropping results for the Hogs that will never be duplicated.
Prayers for John's family. I understand Jeff Long pushed him out. Long was a horrible AD.
John was just short of his 70th birthday when he retired. He'd been the HC for 30 years and at UA for 36. I'm not completely ruling out that JL forced him out, but he also may have been just ready to hang it up after spending half his life coaching the Hogs.
Stunned & heartbroken to hear of Coach McDonnell's death. He was a legend in the sport & for the Univ. of Arkansas.
My brother in law visited with John several years ago. He had no kind words for Long.
Just an incredible Coach! Amazing… Praying for the family!
I'll never forget him and how he treated everyone, not just his athletes. I moved down to Fay. in 79 and was still running my collegiate mileage when I first got here. I eventually hooked up with some of the early razorbacks, Swain, Reina, O'mara and others and jumped into workouts when I could (usually on weekend steady state runs or long runs). I trained exclusively on John's training schedule for cross country and eventually PR'd in the marathon in 1981 after working with him all that summer. He had me peaked perfectly and he even gave me an Arkansas singlet to wear in the race (the New York Marathon). The last time I saw him was at a funeral a couple of years ago for the son of one of his athletes who had died tragically. Here I was, a 67 year old guy now and he asks me how my running was going. I cannot imagine how many lives he impacted beyond just his athletes.
Just an amazing coach and from what I understand, an amazing man. How can anyone ever come close to that record. I remember when he was coaching the Cross Country team. Results would be given at the football games. After a while, I would hear folks starting to say, "Who did they beat this time?"
It is said that the AD at the time, JFB, saw the team come back from a little run, 10 or so miles, and there was Jon leading the group. Frank suppose to have said that was who he wanted leading the Track program. Have no idea if that was true, but for certain, Jon was the man to lead the program!
Sad news. John McDonnell left a gigantic imprint on the University of Arkansas and significant life lessons to a mind boggling number of young people. What a blessing his life was to all who new him. Prayers and thoughts to his loved ones.
very sad to hear this. what a legend, and by all accounts, as good a man as he was as a coach.
GHG
This quote was from an old ADG story, recalling when Broyles promoted McDonnell to coach the track team.
"Someday I'd like to win a national title," McDonnell said, to which Broyles replied, "Well, you know, conference is the most important. I'd be really happy if you win a national title every 15 years."
I guess he did that and 1-3 more ever year in between


This is on YouTube by Pig Trail Nation so I hope it's okay to link here.
Nolan Richardson Remembers John McDonnell - YouTube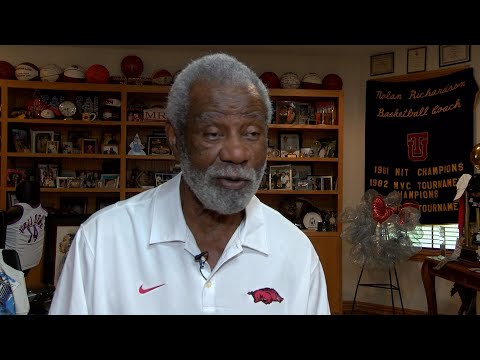 It's an interview of Nolan Richardson about John McDonnell. It's a little over 7 minutes and well worth hearing. Nolan talks about how he loved to visit with John to get coaching ideas from him.

/**/