At least as the site for the A&M game. Not exactly a surprise.
About time, now if we can get him to do the same for LR. I'm tired of being one of… if not THE LAST… college team to play home games at a stadium other than their home where they sleep and practice.
Alabama even realized the futility of doing that and they abandoned their games in Birmingham. But sometimes, I think we Hog fans cling to the past so tightly and are so afraid of change, we would rather have a disadvantage hanging around our neck like an albatross than step into the future and admit though it was needed in the past, we have now put on our big boy pants and are ready to move out of the house and stand on our own.
I'm positive many will not agree and they are welcome to do that. This is my opine and it is just what it is. Mine.
They really had no choice. Legion Field was and is falling apart; one of the upper decks had to be dismantled. As bad as WMS is/was, Legion was worse. UAB doesn't even play there any more.
Not to reopen GSD, but I'd be okay with abandoning WMS. 23,000 less seats and they don't fill the ones they have. Yes I know we put bad games there but they didn't fill it for SEC games either. And we can't use it for official recruiting visits.
I was probably one of the last holdouts for having a presence in LR, but I think the time has passed for games at WMS. It made lots of sense when we filled both places & WMS was bigger then almost as big as Razorback Stadium. It continued to make sense for a while. The resentment had to die down (as old fans died off & newer ones replaced them.). But now the attendance differences, the further aging of the stadium, the continued upgrade of RRS, the recruiting restrictions, and the ease of getting to Fayetteville from all but the farthest corners of the state make it not much of a choice.
I still like going to Little Rock (but not often). I will probably drive down highway 5 (from Norfork) for the Western Carolina game. But it's not a definite. I might just stay home and dove hunt.
There is something I can feel brewing.
In 2020, A&M chose to play this game at their home field because of Covid. We had the option of doing so in 2021, but Hunter opted to instead play it in Arlington in lieu of extending the timeframe of the commitment to play there (currently set to expire after the 2024 game). That would mean the 2025 game - at this time, set to be our home game - would be in DWRRS. So - in effect - we'd be shifting our "return home game" from 2021 to 2026. Fine and dandy.
But with OU and Texas arriving in 2025 (if not a year before), all bets are off. Nothing official has been said, but the unofficial whispers I've read indicate that A&M is NOT likely to be one of our annual 3 (I'm assuming the 3-6-6 model, as I have for more than a year and seems more and more likely). That being the case, there is a decent chance that when we get released from this series in JerryWorld, we may not get that "return" game with the Aggies in 2025 because they won't be on our schedule that year.
In fact, it would not surprise me AT ALL if that happens, and then when the Aggies DO hop back on our schedule (every other year) in 2026, it will somehow be AT THEIR PLACE.
This would be the updated version of us playing Vandy fewer than any other SEC team since we joined the conference 30 years ago. Seems like every change in the SEC rotation happens just as we are about to play the 'Dores, and we play Florida or Georgia instead, with Vandy falling to the back of the line for us.
I have never felt like anyone believes they owe Hogs a return game. Hunter adhered to the contract with Jerry and it was the return game. I think that game at A&M won't be returned. I don't know that. Just sort of thought that. Hope I'm wrong.
You have put down some logical thoughts.
A&M may or may not be one of our 3 permanent rivals, but there's a 50/50 chance we get them in the first year of the new schedule anyway. Same would apply if they screw up and go with the 1-7-7.
Now could that first game in the 3-6-6 wind up in College Station? Wouldn't surprise me. Mark Womack has done some weird things with scheduling (sticking us with Florida and Georgia in 2020 as a prime example).
The writing has been on the wall for several years. I don't think either side wants that game in Arlington anymore.
The Razorback experience at War Memorial has become so diluted that I'm not sure many are clamoring for it anymore. SEC games are not coming back, so the option is to fill it for the FCS games or an occasional Group of Five game (Arkansas State), or risk it going away forever. This was when the team took the field last year vs. UAPB. I think that was an 11 a.m. game and it filled up more, but there were a lot of empties.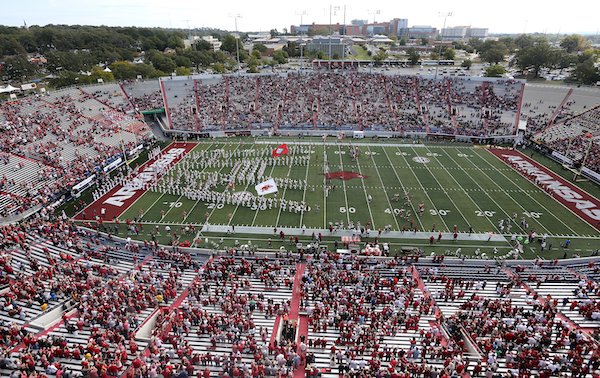 I didn't know it was quite that bad for UAPB, but on the other hand it doesn't surprise me.

The announced attendance was 42,576. That was probably based on tickets distributed.

I can pretty much guarantee that was the case.

Pivoting ahead eight days, I'll be really interested to see if they announce the Bama crowd as a new RRS record, since the old record was set in a stadium with 4,000 fewer seats.

It had fewer permanent seats, but that was also during the time when the bleachers were assembled atop the south end zone, and they were packed that day. Those have gone away.

Yep. I was there that day. I remember the bleachers on top. There weren't 4,000 seats in those bleachers.

I've watched many, many games in WMS. Wonderful memories. But the time has come. Hopefully the power brokers in LR understand the time has come.

That's what I'm talking about, SF. You'd THINK that IF we play them in 2025 (as an annual or every-other-year opponent), it would definitely be in Fayetteville. I just have a funny feeling about that, based on how prior shifts in scheduling rotations have affected Arkansas.

Ah, the good ole' "strap on" seats. No one in hades you could get me to sit up there then.

We have a couple of concourse areas that we could turn into SRO tickets that help booster our numbers.

If both teams are undefeated, it will be the best attended game ever, even if the raw numbers don't bear that out. I would bet that there are 10,000 people who would like to attend who won't be able to score a ticket.

The only draw to LR is the tailgating. And with crappier opponents come earlier kickoffs and no reason to go to the game anymore

I've never done the tailgating. Might be interesting.

/**/