… for Jim Thorpe to be reinstated as the sole winner of 1912 Decathelon and Pentathelon.
Ten years ago this week, I started and finished the Stockholm Jubilee Marathon in the same stadium where Thorpe competed. There's a plaque on the stadium wall commemorating his achievements. If memory serves, the plaque was in this archway.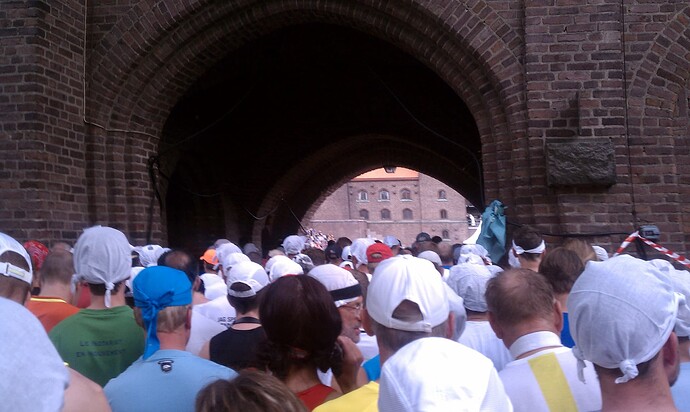 And somewhere through that archway: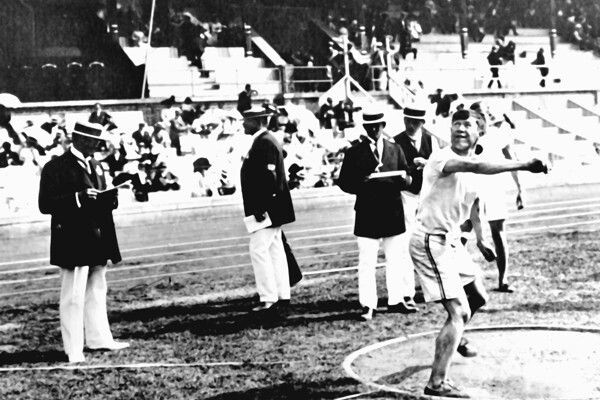 I may make that MY FRIDAY NIGHT at the MOVIES…Jim Thorpe–All American w Burt Lancaster one of my ole favs. Been getting back to the older movies(newer ones so bad) recently watched Anatomy of a Murder with Jimmy Stewart and 12 Angry Men with Henry Fonda. Both classics, highly recommend.

All great movies. Agree with your sentiments about 90% of movies coming out now.

Back in the 60's i recall reading a book about him and not only his track and field exploits but his football day heroics at Carlisle and going against the "big boys" of college football back then…remember in the book the king saying to him, "You sir are the finest athlete iI have ever seen"…Then to find out they took it all away from him left me really ticked off…glad to see it was reinstated…

Several years ago Clay recommended a book called The Real All Americans by Sally Jenkins. The book is about the Carlisle Indian Industrial School. While the book is not about Jim Thorpe, he does play a pivotal role.
It is a fascinating book and just makes you shake your head about what was done to Native Americans. Taking children away from their families and completely removing everything they had known was tragic. They lost their families, their language and traditions.

What an athlete and legend. Especially in those days. Glad it's finally official, the gold is finally awarded as it should be, "All His Now"

US government broke a lot of promises & signed treaty's with the Native American Indians. There's just so much other stuff to it's really quite sad.

We spent a week with the Lakota tribe in South Dakota 5 years ago. Read I Left My Heart at Wounded Knee to understand Native American history better. Absolutely heartbreaking to read and even more heartbreaking to witness the results first hand. We left a piece of our heart on the reservation.

An absolute stomach churning book.

I recommend Killers of the Flower Moon if you're into Native American history, which is actually in production to star Leonardo DiCaprio and Robert De Niro.

Sally Jenkins did a wonderful job. You learn a lot. I drove by the Carlisle barracks when I was fishing near there in Pennsylvania earlier this month.

Killers of the Flower Moon: The Osage Murders and the Birth of the FBI by David Grann is one that I would also recommend. It's astounding how the Osage were treated. I keep hearing that they are making that movie.

Yes I've read Killers of the Flower Moon. Unbelievable how they were treated.

"Killers of the Flower Moon" is an incredible book; could not stop reading it.

This topic was automatically closed after 30 days. New replies are no longer allowed.

/**/