I do not think it is sold out.
We'll be here….in the Sourh end zone. Hopefully in the shade.
Looking at the ticket website, there are limited seats in the club areas on the south and east sides and singles only on the west side lower level.
Every thing in gray is sold out. Light blue is singles only, red has a few tickets. The most tickets in any one section is 43 in section E344, which doesn't have a good view of the scoreboards.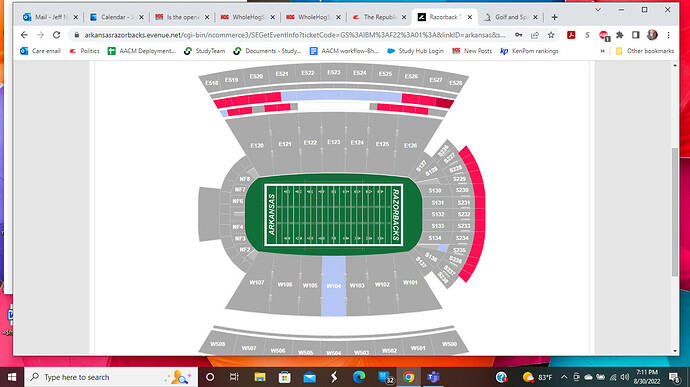 That is disappointing. Ranked opponent, who played in the playoffs last year, ranked Hog team. Not a sellout. Wow.

Ticket prices have skyrocketed. All games on TV. More fans are staying home all over the country.

Not suprising to me.

I'll be filling my usual 5 seats. the twins can't go, so I'm taking friends. Can't wait!!!

GHG

You got that right. My buddy just spent $600 to see The Eagles the night before Thanksgiving in KC, and those were the cheap seats. I've seen them 5 times, including once at The Bud for free. Just not the same without Glenn Frey, and yes I know this is the football board.

There are only roughly 500 seats left and all that I see available are also listed as obstructed view of either the field or scoreboard.

I think there were only 3 singles for bench seats (below the press box with obstructed view). All of the others were club seats, with the majority inside near the top rows with limited view of the scoreboards.

So actually pretty close to a sellout

holden, my family and I are using all 5 of my seats too. However, with the current econonomic conditions, I'm surprised we've sold as many tickets as we have.

Thank goodness, we have an attractive home schedule this year.

In the past, they never considered club seat sales in their determination of a sellout.

This topic was automatically closed after 30 days. New replies are no longer allowed.

/**/