Have had this concern as well
Airports in areas that get winter weather should have snow removal and de-icing equipment (I get bored sometimes and watch YouTube videos of a British series about operations at London's Heathrow Airport; one entire episode is devoted to de-icing the runways at 6 am during a winter storm). But sometimes the frozen stuff is coming down faster than the crews can remove it.
No reason not to from that
not if they have to navigate my driveway
GHG
Ours too. We live on a cul-de-sac that comes up at about a 60 degree angle and there's no way to get up or down. We can just hunker down, but Florida has to hope that the Fayetteville airport or if not the Little Rock airport can stay open and clear for landings.
I can't get there. On Sunday, my Monday flight from DFW to XNA cancelled. Changed to Tuesday. This morning my Tuesday flight from San Diego to DFW cancelled. Donated my tickets back to students.
Hoping I can get there on Wednesday.
This snow is fairly dry. I think they can clear the run way from this type of stuff. But it's not stopping. As my dad would say, looks a little dicey.
According to the XNA website they're getting arrivals this afternoon.
American cancelled my flights. Too late to reschedule today
What about the roads from XNA to Fayetteville? To start out from XNA, you don't exactly have major highways.
What I expect is they will be able to get there, and have a major advantage in that there will be almost no one there. It will be like the Big Ten games. There will probably be less than 500 people in the building. Will be like an organized scrimmage.
HY should just throw it open to the students, socially distanced of course.
If Florida makes it for the opening tip there will be enough loud hogs fans show up that it won't compare to the Big 10 games. I just hope our hugs show up ready to play.
Last Razorback snow game I went to just so happened to be against the Noah/Horford led Gators at Bud Walton in 2006.
It was a thriller. They were ranked #10. We ended up winning 85-81 in OT.
Tiny crowd made huge noise. Although it was quiet enough at times for the student section to fully appreciate Noah's Shakespearean level creativity for insults and cursing.
Came away thinking that dude could've taught my creative writing class.
Noah's dad is Cameroonian-French and his mom is Swedish. He's a cosmopolitan cusser.
That would be this one, I believe: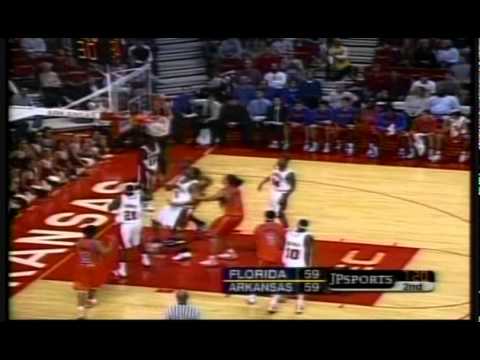 The Wallets went on to win the natty. One of two times I can think of where we beat the eventual national champion (the other was Duke in 1991).

Noah is also engaged to Lais Ribeiro. Look her up.

I always thought Noah looked like a really tall ugly woman.

/**/