I wanted to write this story for a long time, and it's finally live:
Pretty neat stuff, Scotty. Thanks for the way you covered this basketball team. It just kept getting better. You hit a pretty neat stride sometime last year and every piece you write just seems to be on an elite level. I am careful to say something like this because I don't want you to get the big head like Matt. (Just kidding Matt)
Thank you, Clay.
Funny story, I drafted an email to Arkansas' basketball SID on Jan. 23, 2019 with the subject of "Adrio Bailey profile." I did not send it until March 5 of this year. I knew Adrio would be a terrific interview because of his personality, but he blew me away when we talked. Best interview I've had. It was more of a conversation about things that mean a lot to him. I'm planning to put the audio in a podcast early next week.
Thanks, Scottie. You do great work.
Great story. Thanks, Scottie, very impressive.
Thanks Scottie for writing about Adrio's background, makeup, and character. Great read and appreciate your talent to go beyond just basketball. GHG!
Thank y'all. Matt Zimmerman and Fannie Holden, Adrio's HS guidance counselor, were great to talk with, too. Mrs. Holden sent me several pics of her and Adrio from when he would visit her. Here's one she sent I didn't put in the story: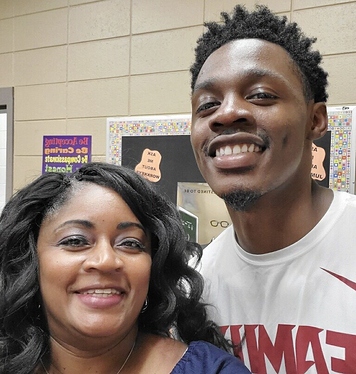 Scottie, thank you for that article on Adrio. He was a workhorse for us this year. He did the things players don't like to do…play physical, rebound, play tough defense and score when the opportunity presented itself. He was a real team player and a valuable member of this team.

Articles like this are great because they help us get to know these kids as people, not just players. The future is in good hands with young men like him. Good luck, son.

Repeating what others have said. Great article.

Of course there are some things in there that I knew already. Like Adrio was Anderson player all the way. Nolan and Mike like to find guys like Adrio that very few big major colleges recruit and turn them into impact players by their junior year.

But there was a lot more stuff in the article that I did not know. Like Anderson did not allow freshmen to have cars. Wonder how many recruits he lost because of that.

On the court, Adrio made progress every year and had an outstanding senior year under Muss. Some of that was because of natural progression, but I truly believe Muss putting him in his natural position of 5 that he played in high school had a lot to do with it, But none of that would have possible without the number of hours he put in the gym.

Also we can say that Adrio played in postseason every one of his four years. 2 NCAATs and 2 NITs. Something that every player looks forward to.

All the best Adrio. You have a great future ahead of you.

I don't believe this to be accurate, though he did play in four postseasons

2016-2017 - SEC Tourney, NCAA
2017-2018 - SEC Tourney, NCAA
2018-2019 - SEC Tourney, NIT
2019-2020 - SEC Tourney

4 SEC Tourneys
2 NCAA
1 NIT

In all likelihood would have been in the NIT had this season played out, but it didn't.

Best wishes to Mr Bailey…

Hard to add anything to all of this. Except Scottie has put "everything" in perspective with this years basketball team. Great stuff to read & know about each player.
Adrio stuck it out here and played his butt off as a Hog. Thanks Scottie & Thanks Adrio,

This topic was automatically closed after 30 days. New replies are no longer allowed.

/**/