I hope—and think—Muss doesn't care what star rating some dude in his mom's basement gives a player. If he looks at all at stars he's not who we think he is.
To suggest you don't want a player unless he's a 4 star is just really dumb. There are plenty of guys who aren't elite run and jump guys who are really good at basketball. Isaiah Joe and Mason Jones were 3 stars—a couple of All Sec guys I guess you wouldn't want at this point.
I would have to go back and look, but it would seem like some of the transfers on this rosters were 3-stars.
Definitely. It's a dumb premise. Muss has shown he very much values production at non P5 schools.
That's why he takes guys like Tate, Umude, etc.(not 4 stars)
247 didn't even rate Umude out of high school.
Neither did Rivals.
Ya but does anyone really want a stud scorer if they didn't have 4 stars?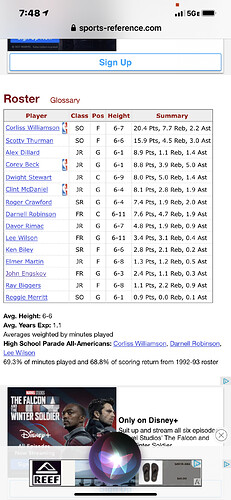 A few more guys who wouldn't have had enough stars for this crazy criteria:
—Scotty Thurman
—Corey Beck
—Dwight Stewart
(60% of the starting 5 for a NC team and a National Runner Up)
—Al Dillard
—Davor Rimac
—Reggie Garrett
(3 key bench players on a NC team)
But, sure. Let's have a blanket rule that we shouldn't take players unless they have a highly subjective 4-star rating.
As far as star rating, I was only talking about recruiting of high school players. For transfers, some of them could have been even 2 stars. Transfers have proven themselves at Division 1 level and Muss is able to use their performances to get proven developed talent and as a result what star rating they had coming out of high school is irrelevant.
Those are all transfers. See my response to Dudley on that.
Focus your research on high school players and see if you can prove me wrong.
I recalled Thurman as a top 75 player out of high school, Corliss and Darnell were McDonald's All Americans. Beck and Stewart were JC all American transfers. That 94 team was not a team comprised of 3 star talent.
The point is well taken that there are kids not rated as high coming out of high school who blossom later. I would not just want kids who are 4 stars because they are 4 stars.
But, on the other hand, there is no question Muss is attracting the highest level talent since Nolan. Don't see how it's arguable. And, while there are always exceptions, you give me the choice between 4 5 star players and 4 3 star players then I will take the 4 5 stars every time.
In another thread, I had clearly stated that star rating that I was referring only applies to high school kids and not transfers. See my response to Dudley in this thread.
To repeat: Muss is signing high school kids with at least a 4 star rating. And filling up rest of the roster with proven transfers, whose rating at that point is irrelevant.
There's nothing for me to prove. You've moved the goalposts now that several have pointed out it's a flawed premise.
But, sure, if you want to narrow the premise all the way down to a statement that he should rarely take on high school "projects" that's kind of a no-brainer and is different than what you posted earlier.
He has raised the level of the program to the point that he doesn't have to take on projects/long shots.
He can cherry-pick proven transfers and sprinkle in talented HS players who are ready to play when they get here.
My point from before was simply that I hope he picks the guys he really wants and not the guys that he is pressured to take.
So far he has mostly done the former.
I think what PJ is basically saying is that when it comes to recruiting high school players, Muss sets his sights high and that pretty much correlates to guys who are all four or five stars.
Thurman's recruiting was interesting. Some people (a few services) had him listed as a prospect, and yet his offer list was very pedestrian.
I believe his final 2 were us and La Tech. He was slow and not very athletic. I doubt he he would have been a 4-star. But, he was a great player from Day 1 here.
That may be what he meant but what he posted (without specifying HS) is that you weren't going to get an offer from Muss unless you are a 4-star.
And, my point is that Muss doesn't look at stars.
Now, he has changed it to—Muss isn't going to take on HS projects and that if he offers a HS kid it's going to be a 4-star caliber kid.
That seems pretty obvious of most Top 10-15 programs—particularly those made up of transfers.
Nonetheless, it's still (at least in terms of offers) not true. He has reportedly offered 3-star guys. Creed Williamson and Javion Guy-King come to mind (if they really have offers).
I tried to find the post where I had clearly stated I was talking about high school players but I couldn't find it. I must have said that on another forum.
But that is what I am saying.
I am not that ignorant to think transfers like Notae and Tate who went to mid-majors were four stars. But I can see why you would think I moved the goal post.
Again bottom line, so far the record is at least a 4 star for high school recruits and filling rest of the roster with transfers who have proven themselves at Division One level. And I fully support this strategy. Very low risk. And you never have to rebuild. Just reload.
Does seem to be a moving of the goal posts thing to me, but I do get the premise now.
Still if there is a 3-star in Arkansas worth an offer, I bet Muss does not limit himself to this 4-star litmus test.
Well, I found the post where I have stated that clearly. It was the "Barry Dunning Will Announce" thread on July 4. Following is what I had stated,
Yes, I have Muss recruiting strategy figured out for a while now. Muss is not signing any high schooler that is not rated at least a 4 star by scouting services. Remaining coming from transfer portal. There will be no projects like Michael Qualls or Mason Jones.
It is a very safe strategy and successful one.
Cool.
Obviously didn't see that one while I was on vacation and the commits were rolling in.
Was just going on the thread today.
I'm not criticizing you, but - as I often say - I'm not a speak in absolutes guy so I don't say something will not - or shouldn't - ever happen.
Too much variables in recruiting.