Will the closing of the I40 bridge have any effect on who go goes where in the regionals?
Which bridge on I-40 closed?
I doubt it, but you raise a good question. Do we bus to Knoxville or fly? Traffic at Memphis is miserable.
I'm sure we will fly BUT both TN and VANDY will probably host a regional that is my question?
With some exceptions, the NCAA flies teams to regionals.
I can't see a scenario where the bridge will change anything in regard to regionals.
The DeSoto bridge into Memphis is closed indefinitely because of a crack found during inspection this week. Eastbound traffic into Memphis is being diverted to the I-55 bridge. It's a mess.
How about the SEC Tourney? Does UA usually bus or fly?
It depends on where they are the weekend before. They have bussed from Athens and Knoxville, and flown from College Station.
It has been 10 years since Arkansas went from a home series to Hoover. I don't remember what they did that year.
The bridge issue is severe. One of the steel members is completely broken. It is amazing that it has not pulled apart. They have even suspended barge traffic below, it is so precarious.
@HawgnDos posted this on Facebook.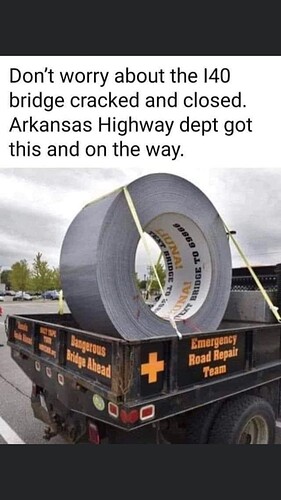 We usually fly to all SEC games with the exception of Ole Miss and Missouri.

I used it earlier, but the word "crack" really undersells the severity of the situation. I thought it was interesting to hear the 911 calls made from the Michael Baker International team. I don't know what the protocol is in that situation, but it speaks to the concern they had that they were asking for police to immediately shut down the bridge.

Neal Earley and Noel Oman at the ADG had a thorough report on the situation today.

If it's so bad they won't even let barge traffic float beneath it, it's got to be something that could allow it fall into the river immediately. That's a huge problem. Vehicle traffic is bad enough, but at least there are alternatives. That's not the case with river traffic. They might be able to come up with some temporary fix to allow river traffic, but I understand it's gonna take a while to get it back to the point it can standup to cars & trucks.

I'm showing my age here. The I-40 bridge is still the "new bridge" to me. And it has been in place more than 40 years. When I was growing up, the only way into Memphis was the "old bridge." That is what is now called the I-55 bridge. Traffic from I-40 and I-55 used it. Sometime before 1980, but don't remember when, they built the "new bridge" and it helped the traffic a lot. At that time they routed I-40 traffic to the new bridge and I-55 traffic to the old one.

The new bridge was completed in about 1973. Like you, I still call it the "new bridge."

According to a story I read, there are more than 220 barges in line at Memphis right now.

The Minneapolis I-35 disaster was the first thing that came to my mind when I saw that break!

I give thanks for safety factors and structural redundancies!

If either of those bridges had structural deficiencies, I would have guessed it to be the old bridge. I get a little nervous going over that one.

It is too dangerous to even let a repair crew on it until they evaluate (calculate) the load capacity as if this whole member is missing from joint to joint… because the loads have to reroute around this member since it has ZERO load capacity now.

/**/