Thanks in advance for responses.
Select the part of the post that you wish to quote (I left off the "Thanks" from your original post.) Once you do that, Quote will appear just above the selected text. Click on the word quote and a response window will appear with the selected material in a quote block.
Be sure to begin your response below the "[/quote]"
But how do I select the part I want to quote, and where does it say quote?
Position your mouse (or finger if on a mobile device), hold down the right mouse button, and drag to select the text.
You should then see something like the following. Click on the grey box that says Quote. A new response window will open.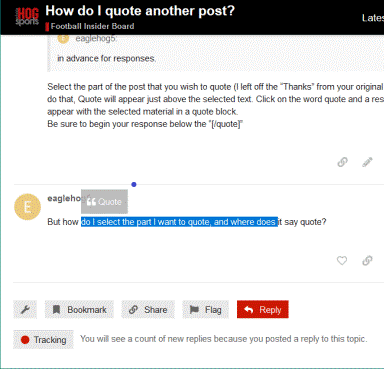 And this new site is an upgrade?
Must done their shopping in the bargain basement.
I guess it can't be done with my phone, which is what I do most of my posting with these days. I've moved my finger over what I want to quote, but nothing happens.
I guess you used the wrong finger.

It worked fine on my Galaxy s9. On my phone I have to lay my finger lightly at the place I want to start for 1 or 2 seconds, then drag it.

Does on my phone. This is an example.

Works just fine on my phone.

Well, you do have to touch the screen for it to work. Then hold your finger down as you drag to select the text.

/**/