If we have to jump on this latest cool kid fad, I wish they would break up the anthracite a bit. Anth helmets with Cardinal jerseys and anthracite or better yet white pants, would be a better look than all anthracite IMHO. Or how bout cardinal helmets and pants with anthracite jerseys?
I agree.
I like the 64 throwbacks as well as the chrome helmet.
Does anyone like that god awful color? What is the point. Didn't we lose the only other time we wore them.
Hahaha Bert has said clearly in the past he does not like the anthracite unis… This must be punishment for their last performance.
I do.
The young people do.
Arkansas is 3-6 when its football, men's basketball and women's basketball teams wear them.
Again, really a non-thing to me.
Really? Bert?
Its one thing for other schools' fans to call him that, but really the own school's fans.
Right up the alley with other team's fans calling me Booger from Revenge of the Nerds.
I love them! But it really is not a big deal. I wish they would wear them much more often!
Those helmets are sweet. Pretty cool…
I wish we would wear them with the red jerseys occasionally.
Love the fact they are shiny, not the matte.
Good job, Nike.
After 56-3, Bert is probably the tamest thing he's been called.
Seriously his magnetic personality and hilarious mocking internet memes are the only reason I haven't totally fallen off the bandwagon yet. I never understood why people took this nickname as some kind of grave insult. Dude wears flip flops to work! I don't think his top priority is molding his brand as a sharp as nails business professional. Y'all should embrace it the way he does himself instead of getting all defensive. If you can't find joy in being the underdog, the unexpected, the misfit, then you better pick a different team. If the hogs beat the gators it will be the first time since we joined the sec, and thats not because our reputation is built on discipline and sophistication. Our best hope is to play hard and have fun and hopefully we make it a ballgame. In Bert we trust (for now)
The problem that I have with ANY off color "uniforms" is that it makes identifying the team very hard. If anthracite, or on other near color is on of the team colors (Vandy, Mizzou, etc.) then they make sense. But for Arkansas it makes the team look like Mizzou or Okie lite.
I'm of a mind that it has something to do with playing @ 2:30 on CBS, more than anything else. As Dudley has stated, the kids love them. Therefore, why not display them for all to see; especially the recruits.
Some contrast would be nice.
And barf on anything but the school colors. If kids love them then why are our recruiting rankings so low. No factor for all schools but maybe Oregon. And look where they are right now. Might as well wear our fighting tomato outfit. Red pants red top like in the cotton bowl when Missouri romped us.
And like we wore the last two years when we beat LSU (see below). The selective memories around here are absolutely incredible.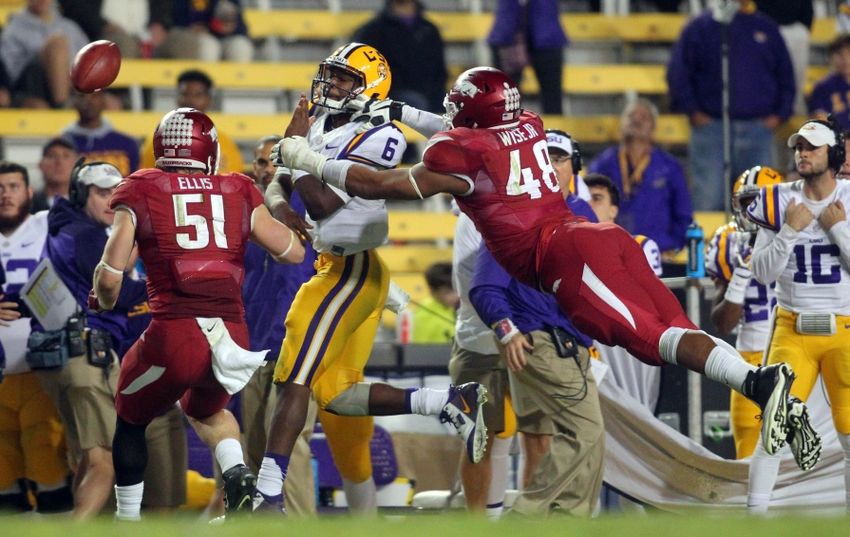 If they make the team play a better game then I am all for them.
I think it would have been a more colorful uniform with the chrome red helmets.
The unis will look great when we take a knee for the national anthem. Brace yourself because the football team is discussing this. Maybe the new unis will fool Florida and hey won't realize our defense sucks. I've about had enough.
The football team is not on the field for the national anthem.
I think the red-on-red has improved through the years.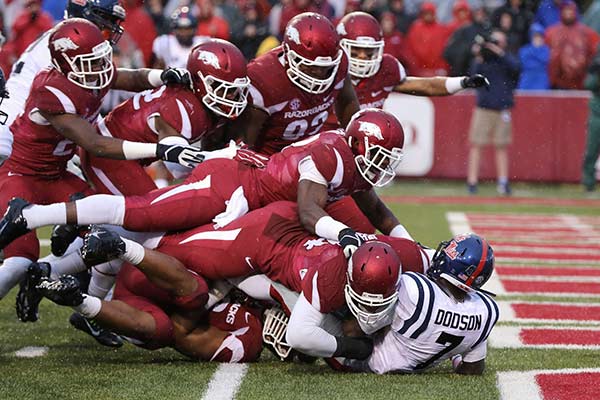 /**/